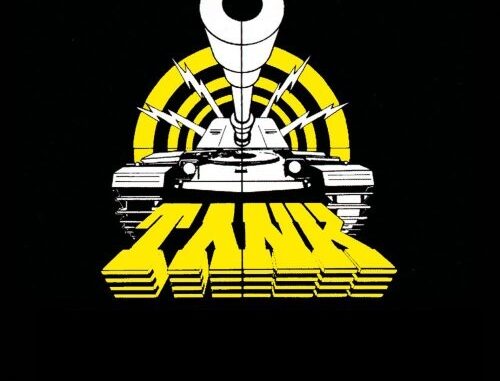 Album Review: Tank - This Means War / Honour & Blood
Reviewed by Gareth Pugh
Tank, the first thing that comes to mind when you hear that name is the image of a metal war machine on a battlefield, but it's also the perfect name for a Heavy Metal band. Formed back in 1980 and very influential in the world of Metal, they are some of the true legends of the genre, with many a younger band citing them as a major inspiration. Unfortunately they split into two separate bands, both calling themselves Tank, and yes it became a bit of a mess. Anyway I digress, we're here to catch up on the bands earlier history. Personally, I wasn't that familiar with them apart from some cover versions by Teutonic thrash legends Sodom, who did 'Don't Walk Away' as a CD bonus track on their seminal 'Agent Orange' album. After listening to their formative back catalogue, and reading up on them, it turns out early albums were often compared to Motörhead, mostly due to them being a three-piece and having a bassist/vocalist (Algy Ward) and their songs being short and energetic, similar to punk with a loose, spontaneous feel. These reissues of albums numbers three and four, are where the 'Head comparisons started to lessen, with the addition of second guitarist Mick Tucker, joining Ward and brothers Peter and Mark Brabbs, on guitar, and drums, respectively.
'This Means War', album number three, is a bit of a departure from the first two albums ('Filth Hounds from Hell' & 'Power of the Hunter') in that where both of those albums had mostly short sharp 3 to 4 minute punky tracks, while 'This Means War' increased the song lengths, added a little bit more of an organised, precise sound and most notably the addition of keyboards, very prominent on 8½ minute opener 'Just Like Something from Hell', at the same time still retaining their core sound.
'Just Like Something from Hell' really showed the impact the new guitarist had on the band's song writing, the whole sound was less chaotic and more organised, the use of melody was much more prevalent, and lead to actually a heavier and more focussed attack. "Hot Lead, Cold Steel" is a slower, more grinding number while the title-track is a classic: heavy, slick, and really catchy with killer riffs and leads. 'Laughing in the Face of Death' follows in a similar vein but ups the tempo a bit and is a bit more aggressive than some of the other songs here, almost suggesting it was written before Tucker joined. '(If We Go) We Go Down Fighting' has a choppy, staccato feel with a very melodic and almost laidback refrain, while the chorus is a bit more belligerent, as the title would suggest. I (Won't Ever Let You Down)' is another very catchy tune, with some off the wall chord changes and a spikey repetitive riff.
The fabulously titled 'Echoes of a Distant Battle' was where the original album ended, and is a faster, galloping track with a nod to the past but with more melody, the highlight is the solo over that galloping main riff. This reissued edition adds a few bonus tracks, the oddly titled 'Swapiyayo' (from the original French and Dutch versions!) is added to the previous track as a sort of outro and it is as weird as its name suggests, with the band chanting the title over a tribal drumbeat. 'The Man Who Never Was' is from the 'Echoes of a Distant Battle' 7" single, is a good track with a frantic, off the wall riff and a schizophrenic solo. It would have been a great addition to the main album. Closing track, another oddly named number from the 12" version of the same single, "Whichcatchewedmycuckoo" is very good musically, with a cool sinister feel, but vocally it's a strange one, with Algy almost doing an Elvis pub singer impression, and it's easy to see why it didn't make the initial cut, although it is a bit of a head scratcher as to why they chose this "tongue in cheek" direction for what could have otherwise been a very good track, it's still enjoyable, but it's a bit odd. Overall, a very solid album.
Album number four, 'Honour & Blood', saw the band make more major lie-up changes, with the Brabb brothers departing and replaced by Cliff Evans on guitar and Graeme Crallen (RIP) on drums. This left Algy Ward as the only original member, but this didn't seem to knock the band off its tracks at all and the album begins with another epic 8-minute track: the fantastic 'The War Drags Ever On'. It starts where 'This Means War' left off, but the keyboards are parred back giving the guitars have a more incise and sharper attack.
'When All Hell Freezes Over' is a slower steadier affair, but in a good way, the chorus is very effective, while a quiet section adds a different dynamic before an excellent solo full of feeling. The title-track is a real highlight and is arguably the best song here, with its urgent and unpredictable riffing, another strong chorus and more stellar lead work. 'Chain of Fools' up next, and is an interesting choice for a cover version, originally performed by Aretha Franklin and written by Don Covay, the original is an R&B classic and Tank do a reasonable job of making it their own, especially the solo. Something doesn't quite feel right, but overall, a good effort.
'W.M.L.A. (Wasting My Life Away)' has an uncharacteristic vocal arrangement, with Algy sounding a bit like he wants to be in Def Leppard, not one of their strongest and the lyrics are poor as well. 'Too Tired to Wait for Love' starts on an odd note, literally, but once it gets going it gets better, but again it's not one of their strongest, with a chorus that tries to be commercial but again falls short, another lyrical oddball, but there is enough of the usual Tank riffing and leads in both to keep the interest up. Thankfully, the album ends on a higher note with the 8 minute 'Kill' although there are some questionable backing vocals, but there is plenty of quality guitar work and the solo during the quieter section that builds up to a crescendo is rather wonderful.
There you have it, two classic albums that have been in and out of print for decades from a well renowned band, so if you want to hear what some of your favourite bands were listening to back in the day this is the perfect chance to get hold of one or both. I really enjoyed getting acquainted with these re-releases (and their predecessors during my research), they sound pretty good considering they came out in the early '80s. If I was to recommend one of them over the other, I'd go for 'This Means War', as it's just a little bit more consistent. But what the hell, why not go for both.