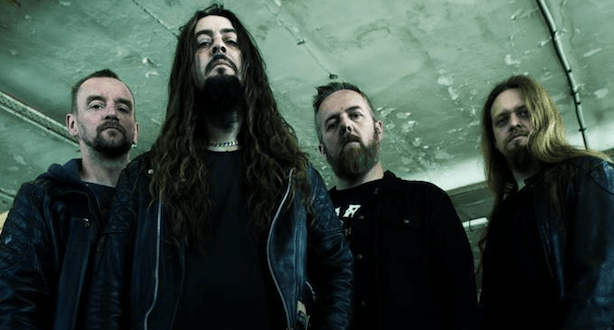 Album Review: Xentrix - Shattered Existence [Reissue]
Reviewed by Dan Barnes
Over the next couple of months Cherry Red Records will be releasing the first three albums by UK Thrashers, Xentrix, all featuring extra tracks and newly remastered and all previously released under the band's Roadrunner deal. With For Whose Advantage…? and Kin being put out simultaneously at the back end of April, it is left to the Shattered Existence debut to lead the way and, even though I've lived with this record for more than thirty-years, it's always a welcome excuse to hear it again.
Xentrix come from the same town as I and, back in the day, if they were playing somewhere in the vicinity, we'd go and catch them. They were called Sweet Vengeance back then and announced their new moniker at a pre-Christmas show in Bamber Bridge – at the Baxi Social Club (don't look for it, it's not there anymore!). Many of us didn't knew what a xentrix was, to be honest, but it was a brave new world, so best to go with it!
Released mid-September 1989 around half the tracks from Shattered Existence still feature in the setlist today. Crimes – if I recall correctly the album was originally supposed to be called Crimes Against Humanity –, Balance of Power and Dark Enemy will be familiar to anyone who has seen the band at any stage and, even after thirty-plus years, still have the drive and power to fuel even the most cynical of pits.
There's a youthful exuberance about the opener, No Compromise. Sure, the lyrics are a bit cheesy and haven't aged well and Chris' vocals are far better everywhere else on the record, but the song does all it needs to do in launching a debut record and sets down an appropriate marker. It might be the shortest track on Shattered Existence, but it still closes the set and never fails to leave the crowd demanding more.
If you move away from the live favourites, you'll find a bunch of hidden gems here that could easily be reinstated into the set. Back in the Real World make some grandiose guitar statements; Bad Blood opens with an almost Eastern sound before being consumed in a wall of destructive rhythm; Reasons for Destruction features some epic riffage while the off-kilter timing of Position of Security shows a band already keen on flexing its creative muscles and Heaven Cent powers along, foreshadowing Megadeth's output a few years later.
The rhythm section of Dennis and Macca lay a foundation upon which Chris and Stan's guitars can stomp and soar. There are times when it sounds like Dennis' kit owes him money and won't pay and Macca's four-strings are bowel loosening.
The album is chockful of those Thrash riffs we all love to hear, but they are mixed with colour and texture, such as the acoustic interlude in Reason… offering a brief respite from the raging storm surrounding it.
Vocally, Chris' sound it recognisable by the way he accents the end of his lines, but he's not averse to channelling his inter Mustaine – on Heaven Cent, or Blitz – on Bad Blood.
For this reissue it would have been nice to go back to the beginning and hear some of the live favourites from the early days: tracks like Hunger for Death or Predator would have been a real trip down memory lane. Instead, the bonus on this release are the three songs from the 1990 twelve-inch of Ghostbusters.
Xentrix's Ghostbusters cover became infamous due to the controversy of the artwork and saw the band getting their wrists slapped by a humourless Columbia Pictures
The two additional pieces continue the forward-thinking evolution wherein Nobody's Perfect and Interrogate sees the band playing with those unusual time signatures, prominent bass work and Chris trying a variety of registers and deliveries, proving Xentrix were never content to rest on their laurels.
Listening back to Shattered Existence with a bit more intensity than I did back in the day, it quickly becomes apparent what a consistent and unexpectedly mature record it truly is. It's also an honest record that wears both its heart and it influences on its sleeve and in any other situation would have been the springboard for a glittering future.