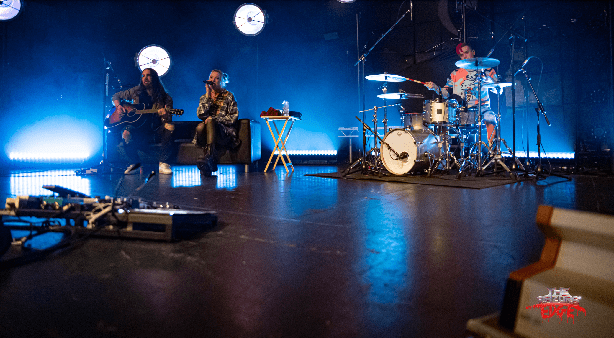 Live Review: Halestorm - O2 Academy, Birmingham
2nd March 2022
Words & Photos: Tim Finch
When a band announces "An evening with…" shows it always comes with some hesitation. Does the band have a back catalogue big enough to pull off a show without any support acts? Even with such a back catalogue can they keep thousands of people entertained for the best part of three hour show? Even some of the biggest bands in the world would struggle to pull off such a show successfully. So as we head into Birmingham this evening the question is… can Halestorm pull off such a show?
With no support act the band have split the evening in two, starting with an acoustic set, which Lzzy tells us is full of some old favourites, some rarities and some of the deepest cuts Halestorm can pull out of the bag.
There's no doubt about it, this first forty five minute stripped back set highlights Lzzy Hale's phenomenal voice! Whilst all members take part, it's that strong vocal talent that shines through the soft lighting. 'I Am The Fire' highlighting it perfectly and prompting a crowd sing a long to boot. The acoustic set includes 'Better Sorry Than Safe', 'I Like It Heavy', 'Break In' and a wonderful cover of Judas Priests 'Living After Midnight'.
So far so good, the acoustic set out did itself and the band leave the stage triumphant, with a 20 minute break for the fans to grab a beer and prepare for round two.
The face of rock and metal is changing, it has been for a few years, but now more than ever the walls of male dominance are crumbling. And rightly so. Leading the way and evolving the shape of the music scene for the better is Lzzy Hale herself. She strides powerfully onto the stage for round two of tonights show, the full on barnstorm of a Halestorm set!
As the set kicks off in full, they start with 'Bomb Shell' and 'Mz. Hyde', Lzzy's stunning vocals intermingled with a wide smile, as the rest of the band, now in full power mode, kick in. Joe's solos are exquisite works of art on the fret board, breaking up the song and highlighting the musical talent on show.
The band mix old and new material throughout the performance, showing just how good their song writing has been throughout their career. The encore of 'Here's To Us', 'Love Bites' and 'I Miss The Misery' round out a wonderful evening and send the fans away happy. Any prior hesitation about the "An Evening with…" is long since gone. Halestorm prove they can hold their own!