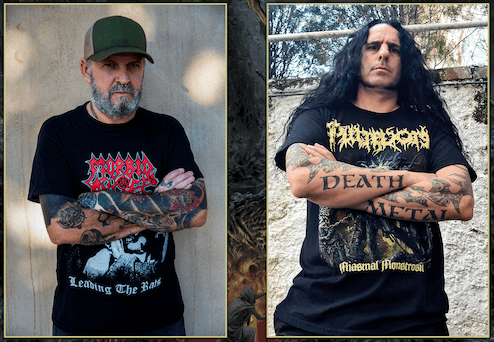 Album Review: Decrapted - Bloody Rivers of Death
Reviewed by Daniel Phipps
On so many occasions new bands and projects try too hard to reinvent what they are doing. Now this is in no way a bad thing, but you can run into the problem of overthinking or trying too hard to be fresh, when in all honesty you just need to work on writing good solid music. Decrapted is a new project from two old friends Vicente Payá (Unbounded Terror/Golgotha) and Dave Rotten (Avulsed/Christ Denied). Decrapted have a single goal which is to write honest old school death metal, they understand the above points that reinventing the wheel as fun as it can be is not a necessity and with both members having a long history within the genre they are here to put their experience to work.
Let's start with the artwork for Bloody Rivers of Death, it is an absolutely stunning piece of work from Daemorph Art and it sets up the album perfectly before you hear the first note. As for the music, Bloody Rivers of Death provides an extremely honest representation of classic old school death metal complete with crushing guitars, powerful drums and the disgusting vocals of Dave Rotten which switch from guttural to an almost John Tardy style scream at times.
For the most part Bloody Rivers of Death keeps a consistent, solid and powerful tempo however at times on tracks such as "Headless Hunting '' as an example Decrapted really up the adrenaline and furious rage. Working alongside Vicente Payá is guitar player Camilo Pirata, a session member who handles implementing his solo's throughout the release which really add that extra depth to the tracks. Drums are also handled by session musician Miquel Angel Riutort "Mega". His drumming is solid and meets the needs of this album without taking over.
If you are looking for powerful and honest death metal then this release is for you. It's not going to relentlessly batter you or dazzle you with flash but it's not meant to. As mentioned in the opening you don't need to reinvent the style to release a solid result.