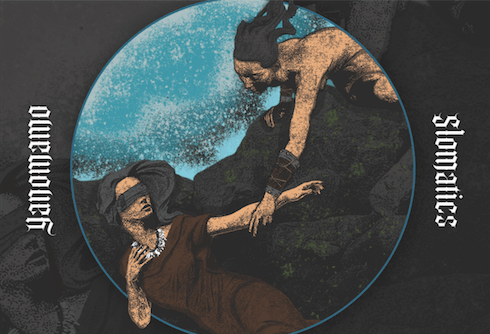 Single Review: Yanomamo / Slomatics - Split
Reviewed by Paul Hutchings
The latest in a long line of split releases, Northern Ireland's Slomatics' most recent collaboration sees them team up with the sludgy vibes of Australian metallers Yanomamö for this 7" blue vinyl release, which makes the point of reviewing in on a digital copy a bit absurd in some respects!
However, semantics aside, what you get here is a cracking slab of music which highlights the strength of this genre once more and illustrates why the Slomatics are one of the most revered bands in the sludge doom field. 'Griefhound' may only be four and a half minutes long, but it comprises mountainous riffs, and a dystopian negativity which is unsurprising given the time when it was originally recorded. Full of distortion, the vocals are distant and echoing and the pace glacial. It's what Slomatics do best.
Yanomamö's 'Dig Two Graves' is another filth ridden sludge fest, with fuzzed up guitars, gravel-soaked vocals and a grinding riff that makes you feel, as the band note, "like they're being dragged through thick mud". It's a gritty, beast of a track, the distortion and combination of wandering bass lines, crashing cymbals and percussion and that overall perfect riff make it the ideal companion on this split single.
With both songs carrying dark imagery and creating haunting atmospheric tones, this is a single that works on every level.