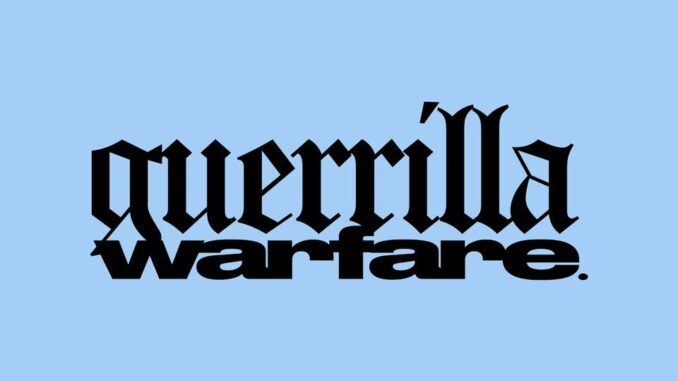 E.P. Review: Guerrilla Warfare - C O N T R O L
Reviewed by Daniel Phipps
The infusion of hardcore and hip hop is hardly a new thing. Be it Biohazard collaborating with hip hop legends such as Senn Dogg of Cypress Hill and Onyx, or acts like E Town Concrete who were able to fuse the two styles together it has the ability to work together so well on so many levels. On top of that personally I feel that both genres have an awful lot in common so it should not be a surprise then that the styles can gel so well together.
Guerrilla Warfare are a three piece band, classifying themselves as "River City Rap Metal" they blend the energy of vicious raw underground hip hop with heavy moshy hardcore and they are set to release Control which is a five track output of pure energy. Being released on 333 Wreckords Crew the E.P. was written as a two part concept piece of work with the theme of exploring dualism within society and the human psyche. Vocally all three members are involved offering an aggressive energetic display, with the vocals switching between members frantically with all three having their own distinct flow.
Musically with the exception of the final track "How To Breathe In Space" which has a more straight up hip hop feel to it before crossing over at the midpoint, Control is full of heavy chugging riffs with bouncy rhythms, it reminds me at times of LA's Downset who like Guerrilla Warfare have a very heavy hip hop vibe to the bands vocal delivery, the main difference between the two however is I feel that overall Guerrilla Warfare have a heavier sound and more punch to them musically. "SmaLL hiLLz" is the highlight of the five tracks with its mixture of rapid heavy mosh sections before breaking down into a more chilled groovy bass/drum section, Control has a great mix of these elements allowing the hip hop and heavy parts to gel and co-exist.
Control is a fantastic display of hardcore and hip hop crafted and entwined together. It has great energy and showcases both styles in their most raw and honest format.