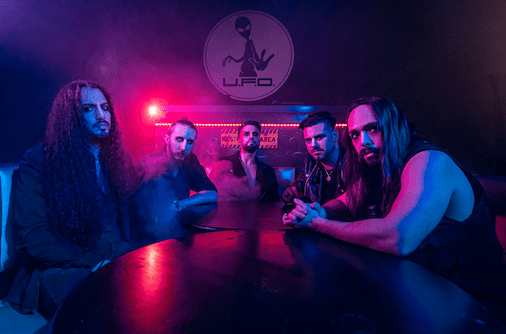 Album Review: Lionsoul - A Pledge To Darkness
Reviewed by Richard Oliver
A Pledge To Darkness is the third album from Italian power metal band Lionsoul. They are not a band I have previously heard and this album is my first exposure to them. A Pledge To Darkness is their first album for Rockshots Records and sees the band pull in many different influences to their core power metal sound whilst also adding in a science fiction concept across the eleven songs. Definitely an ambitious album but does Lionsoul manage to pull it off?
The album doesn't start too well with a spoken word intro Continuum with embarrassingly bad voice acting. Thankfully things do improve when the music finally kicks in with Exile To Arise being an energetic and anthemic power metal tune. Amber Of Illusion is another meaty bit of power metal equally anthemic though far more mid paced whilst Wailing In Red and Soldier Through Time incorporates a greater use of synths whilst also incorporating some thrash style riffing as well as a darker tone. Red Flame is the real oddity of the album being somewhat of a mix between a power ballad and music from a spaghetti western whilst also containing lots of synths. It's a confusing mix of a song and it doesn't really work. The album closes on The Strangers which is a quality bit of riff-heavy and anthemic heavy metal.
The musicianship is excellent throughout with some fantastic drumming from Luca Mazzucconi and great guitar work from Aurelio Parise and Francesco Pedrini. The vocals from Ivan Castelli aren't the best I've heard in power metal but definitely aren't the worst either. They are perfectly serviceable and don't detract or distract from the song.
A Pledge To Darkness is a solid enough power metal album but it lacks a bit of a wow factor for a genre that is meant to be big, brash and theatrical. There are some great songs to be found on the album but a rather thin production and mix robs a lot of these songs of their power. Tonally it is a bit all over the place with darker and more aggressive songs clashing with bright anthemic melodic metal songs. The band definitely have talent in abundance but this album feels like a bit of a mixed bag.