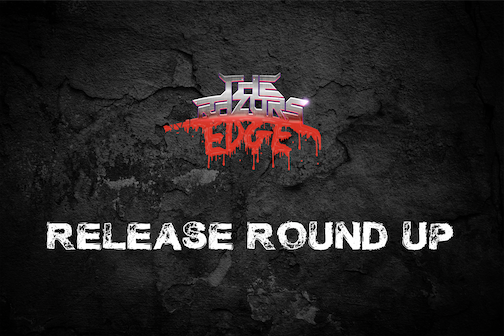 Release Round Up - April 29th, 2022
Every Friday there is a tidal wave of new music released unto the world. Whilst we try to cover as much as possible here at The Razor's Edge, it's not always possible to review everything. So each week on a Friday we'll round up some of the best new music available, some we've reviewed, some we haven't, but all worth checking out!
Theres a lot of new heavy music hitting the airwaves this week, everything from black metal, death metal, gothic metal, Stoner rock, doom, thrash metal and even some of your traditional heavy fuckin' metal!
Here's what we think you should check out today!
English punk rock legends Buzzcocks drop new single 'Senses Out Of Control' this week.
"that punk mentality sits at the very core of the song."
Read our full review here.
Aussie metalcore outfit Void of Vision drop new EP 'Chronicles II: Heaven' this week via UNFD.
"It is a collection of opposites as the band celebrate the juxtaposition of a Metalcore sensibility with an Industrial fervour."
Read our full review here.
Scottish fuzz rockers Earl of Hell drop EP 'Get Smoked' this week.
"they are coming to rip your face off!"
Read our full review here.
Dutch thrashers Dead Head release latest album 'Slave Driver' via Hammerheart Records this week.
"'Slave Driver' is a nasty, feral release that takes no prisoners."
Read our review here.
Spanish fuzz masters Blues Weiser release 'Obey The Booze' via Argonauta Records this week.
"a gnarly, rollercoaster of an album"
Read our full review here.
Chilean death metalllers Suppression unleash 'The Sorrow Of Soul Through Flesh' this week via Unspeakable Axe Records.
"Cerebral yet malicious, this is an album fans will gravitate towards with utter ease."
Read our full review here.
One man riff machine Foul Body Autopsy releases the latest in his EP series 'Shadows Without Light: Part Two' this week.
"It's deep and meaningful, all wrapped up in a melodic death metal storm."
Read our full review here.
Satyrn Studios bring some up and coming bands together this week for 'Forever Reigning - A Tribute to Slayer'.
"If you want to listen to Slayer, listen to Slayer. There can be no substitute."
Read our review here.
And thats just the tip of the iceberg! Other releases today we think you should check out include...
Rock / Hard Rock / Classic Rock
Ann Wilson - Fierce Bliss (Silver Lining Music)
Chemia - Something to Believe In (Absolute Label Services)
Helms Alee - Keep This Be the Way (Sargent House)
Matt Pearce & The Mutiny - The Soul Food Store (Mutinear Records)
Midas - Midas (No Remorse Records)
Mr. Giant & The Broken Stone - Metamorphosis [REISSUE] (WormholeDeath Records)
Poets of the Fall - Ghostlight (Playground Music)
Reef - Shoot Me Your Ace (earMUSIC)
RT-Zed - ZedNation (Self-released)
Thunder - Dopamine (BMG)
Heavy Metal
Crashdiet - Automaton (Crusader Records)
Heriot - Profound Morality [EP] (Church Road Records)
Lionsoul - A Pledge To Darkness (Rockshots Records)
Mynas - Violence (Self-released)
Rammstein - Zeit
Reckless - T.M.T.T.80 (Sneakout Records)
RF Force - RF Force (Black Lion Records)
Steelbourne - A Tale As Old As Time (WormholeDeath Records)
Death Metal
Arktotus - Black Veins (Self-released)
Bedsore / Mortal Incarnation - Split (20 Buck Spin)
Deathcrush - Under Serpents Reign (Time To Kill Records)
Dischordia - Triptych (Transcending Obscurity Records)
Harmoniaq - The Forest of Torment [EP] (Self-released)
Inanna - Void of Unending Depths (Memento Mori)
Intolerance - Dark Paths of Humanity (Memento Mori)
Kraanium / Existential Dissipation - Polymorphic Chamber of Human Consumption (Self-released)
Repressed - Chapters of Dissimulation [EP] (Self-released)
Stratuz - Osculum Pacis (Sliptrick Records)
Black Metal
Al-Namrood - Worship The Degenerate (Shaytan Productions)
Dissolve Patterns - Dissolve Patterns (Brucia Records)
Feralia - Under Stige / Over Dianam (Time To Kill Records)
Ljuska - Thanatanamnesis (Vargheist Records)
Vāmācāra - Cosmic Fires: The Enlightenment Reversed (Black Sunset)
Watain - The Agony & Ecstasy of Watain (Nuclear Blast)
Pershagen - Hilma (Lövely Records)
Stoner Rock / Psych / Doom / Sludge
Celestial Season - Mysterium I (Burning World Records)
Siberian Tusk - Reapers By Trade (Hidden Noise records)
Slowtorch - The Machine Has Failed (Electric Valley Records)
Tenebra - Moongazer (New Heavy Sounds)
Zombie Rodeo - The Eyes Are Set Upon You (Inverse Records)
Punk
Deaf Lingo - Lingonberry (Lovely Records)
Thlurm - The Thlurm Must Die & Dungeon Scum (Wise Blood Records)
Child Bite / Black Rheno - Split E.P. (Housecore Records)
Prog Rock /  Metal
Delvoid - Swarmlife (Banditt Media)
Geometry of Chaos - Soldiers of the New World Order (WormholeDeath Records)
Slanderous - Absorbing Infinity (Self-released)
And the rest...
Demiricous - Chaotic Lethal (Self-released) [Thrash Metal]
Downfall of Mankind - Vile Birth (Lacerated Enemy Records) [Deathcore]
Gunash - All You Can Hit (Go Down Records) [Alt-Rock/Post-Grunge]
If I Die Today - The Abyss In Silence (Argonauta Records) [Post-Hardcore/Sludge]
Junction 28 - Before You Drown [EP] (WormholeDeath Records) [Alt-Metal]
Metopia - Wiedergeburt (Self-released) [Industrial/Groove Metal]
Pershagen - Hilma (Lövely Records) [Cinematic Metal]
R.O.T. - Yomi No Kuni (Self-released) [Metalcore]
Spill Your Guts - The Wrath It Takes (Trepanation Records) [Hardcore]
Throwe - Forfald (Deathbird Records) [Hardcore]
Valiant Sentinel - Valient Sentinel (No Remorse Records) [Power Metal]