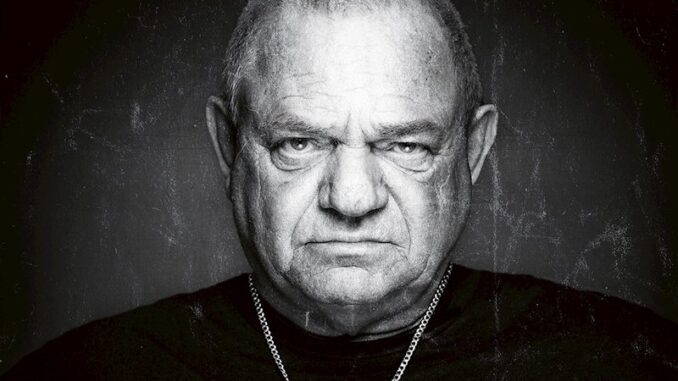 Album Review: Udo Dirkschneider - My Way
Reviewed by Paul Hutchings
I suppose when you reach 70 years of age and have devoted your entire career and life to rock and metal, you are allowed a bit of indulgence. Certainly, Udo Dirkschneider is an icon to those of us brought up on the metal of the lates 70s and 80s being a founder member of Accept as well as fronting U.D.O. and Dirkschneider. He's been remarkably consistent with an output as regular as clockwork over the past three decades. His style is most definitely his own. There is no change in how he sings, his instantly recognisable gravelly tones sounding the same as they did on those early albums with Accept, albeit a bit more gravel and slightly older.
I've always had a sneaking admiration for him. Accept have always been one of my favourite German bands and those early albums were integral to my early music tastes. I've not followed him religiously, for he is an artist whose music you can dip in and out of rather than having to absorb everything he puts out. There will be many fans who might be outraged at such a statement. All or nothing perhaps.
'My Way' is nevertheless an exercise in self-indulgence. It's also a way of Udo paying homage to those artists who shaped and influenced his early years and started his journey all those years ago. It's an album with a few surprises. And some very brave choices. It takes a very confident singer to emulate Ronnie James Dio. Udo gives it a go on the epic 'Man on the Silver Mountain'. It doesn't work, despite the best efforts. Two very different vocalists, and musically it's okay but this is an album about the singer, and few can match RJD.
Drop down a couple of octaves and you'll find Udo in more comfortable territory. The opening duo of Alex Harvey's 'Faith Healer' and Arthur Brown's timeless 'Fire' both work well with the assembled musicians adding heft and heaviness to the songs. In fact, the music on the album is excellent, generally remaining faithful to the originals with added twists and flicks that give them a little oomph where needed.
It is of course, a personal album with the tracks all selected due to their particular importance to Udo. His inclusion of 'Nutbush City Limits' reveals an early admiration for Ike and Tina Turner, although it's not the best version I've ever heard. A robust edition of Zeppelin's 'Rock and Roll' is very enjoyable for a singalong, Udo wisely avoiding any attempt at rivalling Robert Plant. The upbeat cover of Scorpions 'He's A Woman, She's A Man' is one of the best on the release, although the lyrics would probably be met with some challenge in today's ever-changing world. It's still a cracker of a track.
Unsurprisingly, Udo's strangulated gargle doesn't detract from Motörhead's 'No Class' even if it's a little flat in comparison to the ballsy original. His delivery is well suited to AC/DC's 'T.N.T.', although there is little similarity with the Metal God Rob Halford when Udo launches into 'Hell Bent for Leather'. Full marks for gusto and enthusiasm though!
Wolfheim's 'Kein Zurück' is going to be the curved ball here, and interestingly this is apparently the first time Udo has sung in German, an incredible fact when you think about it. The song is about no way back, pertinent in the case of Udo and his career. He commented, "I immediately felt like the words understood me. It seemed to me that the lyrics were telling the story of my career, of my highs and lows and all the good and bad experiences that life has. There simply is "no going back" for those who choose to live as a musician."
Given that the album is called 'My Way', it would be surprising for there not to be a cover of Sinatra's classic. To be honest, what you get here is what you'd hear in karaoke bars across the world, and it does unfortunately relegate Udo to the status of average pub singer. I'm not a fan of the original, but this concluding track brings the album to an interesting conclusion. If you can ignore this, then there are some interesting covers elsewhere.
Overall, this is an album that you cannot deny one of the true workhorses of the metal scene. Would I buy this? Not a chance in hell. But if you are a fan of the little German, then it might be one for the completist collection.