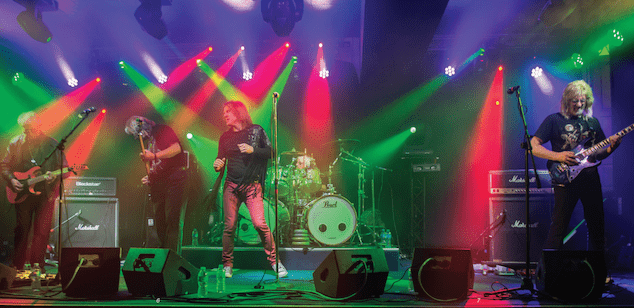 Album Review: Quartz - On The Edge Of No Tomorrow
Reviewed by Sam Jones
When the great names of NWOBHM (New Wave Of British Heavy Metal) crop up, we may think of Iron Maiden, Saxon, Diamond Head etc. At a push we may consider bands like Tygers Of Pan Tang, Praying Mantis, Tank and Blitzkrieg. But a little down the list there, you'll eventually run into Quartz. Formed all the way back, originally, in 1974 as Bandy Legs, before changing themselves to Quartz in 1977, the band very quickly released their debut self-titled record. A slew of singles would also be released including a second album, Stand Up And Fight, in 1980, before eventually followed up by their third and, for a very long time, final album: 1983's Against All Odds. The band would break up the same year. But come 2011 and nearly three decades following their split Quartz were looking to give it another go, even if it wouldn't be until 2016 where Fear No Evil would at last see the light of day. So, now another six years later with the band's fifth full length release, On The Edge Of No Tomorrow, it will be very interesting to see what these guys are capable of not simply because it'll be my first experience listening to them, but also to learn what Quartz are made of against the rest of the NWOBHM roster. We've got quite a slew of music on offer her, so let's dive in.
Considering that Geoff Bate hasn't performed vocals on a Quartz record in nearly 40 years, his performance still manages to hold up. Now this isn't some Bruce Dickinson-tier vocal performance, there's been some clear vocal deterioration throughout the decades which will have dampened the impact his vocals can have. But to Bate's credit, his vocals are actually pretty damned good as he clearly showcases control, flow and a resonance in his performance that other vocalists would have likely lost. It's also worth mentioning that Bate hasn't done a single album vocal performance since their 1983 Against All Odds record, so to experience his vocals for what they are is downright miraculous if he truly hasn't had any other ongoing vocal credits. It's likely why the songwriting possesses this trudging and steady pace too, Bate might not be capable of singing that quickly so the instrumentation had to slow down. But, all things considered, this is a quality vocal performance that isn't anything to be downplayed.
As touched upon, Quartz have adopted a pretty steady pace at which they play at. It's a rather similar tempo they play at throughout the majority of the album; yet we need to remember we've got 14 tracks to work with here. That's quite a few compared to the usual 8 - 10 most albums churn out these days, so there was the risk Quartz could turn this record stale. But, I can attest that, at no point, did Quartz's sound and atmosphere turn dull or repetitive. As the tracks kept turning, the band made sure to keep on including different meanders and twists to their songwriting, enabling that approach to album pacing to feel continuously fresh and exciting. It may be a little faster or slower in places, but the general feel of this record is fixed in stone from start to finish. However, there's a real swagger and style to this record. It's like observing your older uncles for the first time having fun and showing what they're made of, realising there's more to them than you expected. This isn't some dead horse being begged back into life, there's still vitality to the band after all these years and following a six year gap between records too.
One reason why I feel like this record oozes so much style and substance, is the bass work. This record just bursts with bass but not to the extent that it comes off as some dominating power. In terms of production and mixing, On The Edge Of No Tomorrow is a very modern album that bolsters a squeaky clean and super polished aesthetic; there's no chance of coming across any notches or dirty marks throughout this listen. As a result the bass has no obstacles at being heard and has been mixed in wonderfully in equal balance with the instrumentation and vocal efforts. "Night Of The Living Dead" may just be one of the most suave tracks I've heard in a very long time, the bass helps the band to groove along in a frighteningly natural way. Quartz have a genuinely fun vibe to them without emphasising the effort to us; they legitimately don't need to try to lean into it because their atmosphere feels so relaxed and carefree. Basslines are thick and taut and while they come across as right at the forefront of the band, they appear to be situated at the back merely trundling along, doing their job. It's an excellently curved, well-rounded album in that respect. Definitely alongside the underdogs of NWOBHM with Satan and Fist.
My favourite thing about this record though, outside the music itself, is how easy it is to put this on. Experiencing everything this record can offer you doesn't require us to be in any specific mood or emotion, On The Edge Of No Tomorrow is an album for everyone regardless what they may be feeling, because by the time that final track has played out, you'll be feeling so much better about yourself. There's no test or pressure to withstand this record's assault on you, it's old school heavy metal doing what old school heavy should: entertain the hell out of you whilst injecting slabs of fun into your head with what their record can do for you. You'll find yourself bouncing jovially to this record's many songs without end or boredom, since Quartz have implemented plenty of different elements to keep things engaging for us. Initially the prospect of a 14 track album had me preparing myself for the long haul, but soon I didn't want it to end. That is no small feat considering we're looking at an hour long record, if not surpassing that. Short runtimes mean no one song overstays it's welcome and the band are soon going to be moving on to their next piece, with enough variety in place whereby no two tracks are too similar to each other.
In conclusion, this was a fantastic album to kick back and listen to. As mentioned beforehand, there are no worries in tackling this extensive record and it's many tracks, for the band have ensured there's plenty to keep us engaged and thrilled throughout the diverse examples of songwriting herein. Quartz aren't likely to win any awards with this album but they're certainly going to reward longtime fans, including ensnare a new generation with their relaxed but grooving sound. There's nothing to concern us, no vast weight piling down on us, Quartz have a record that can be accessed by all ages regardless of what your preferred style of metal is. In a way, we can say that the band are clearly ageing and having to make some compromises here and there but frankly, they've overcome those challenges with ease and moulded their songwriting into something that's definitely got a formulaic approach to it yet possesses a great deal of style and flare; enough swagger is contained within this record to make you forget this band almost predates the NWOBHM movement. So ultimately, On The Edge Of No Tomorrow isn't merely a great and superbly fun album, it does what any older band wants a fan to do: go check out what else they've released. Effortless joy