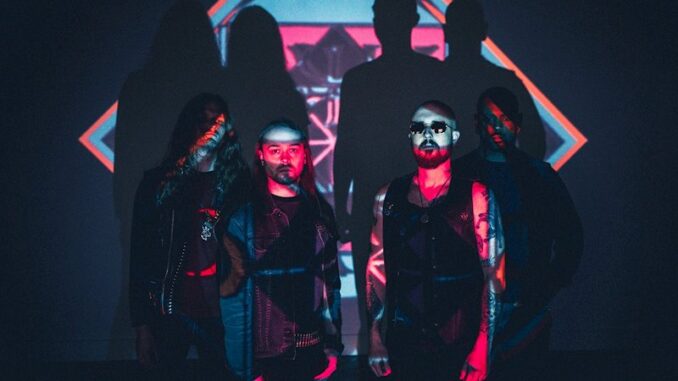 Album Review: Sadistic Ritual - The Enigma, Boundless
Reviewed by Gareth Pugh
Psychedelic thrash I have to admit is not a term I have been exposed to previously. This is the sub-genre that Sadistic Ritual have tagged themselves to, or possibly even invented for themselves. Either way it worked, it was enough of an enigma to grab my attention and check them out. Formed as far back as 2009 and currently comprising founder, main-man and constant; Charlie Southern - Guitar/Vocals, Alex Parra – Guitar, LaMar George – Bass, and Joe Sweat – Drums, the band already have several EPs and a full-length album (2019's 'Visionaire of Death') under their belts and now this sophomore effort, the intriguingly titled 'The Enigma, Boundless' is about to drop. Originally conceived, written, and recorded in the chaos of 2020, the band are finally able to resume the momentum so brutally halted by the dreaded C word.
Moving onto the music, let's get one thing out of the way before we even start, this moniker 'psychedelic thrash', well aside from some slightly bizarre, and very colourful cover art and some off the wall song titles, I don't really see that there is that much psychedelia going on here. I have to admit I wasn't quite sure what to expect, I think it was some 60s flower power, hallucinogenic, mind-altering, LSD type thing, bolstered by double bass drums and palm muted riffs. Well, it isn't, but what we do get is a very solid and competent thrash album, with the odd twist.
The first thing you notice when opener 'End of All Roads' starts is the magnificent production and sound job the band has achieved. Produced by the bands own Alex Parra, and mastered by man or the moment Arthur Rizk, who seems to be popping up all over the place at the moment whether it's as producer (Kreator, PowerTrip, Sacred Reich, etc.), mastering (Cirith Ungol, Enforced) or even lead guitarist (Soulfly). Between them they have accomplished a heavy, organic, and perfect soundscape for some brutal metal.
The aforementioned opener is a modern, yet old school tinged rager, with brick heavy riffing and a scorching middle section complete with blast beats. 'And You…' and 'Dire Avidity' continuing the punishment, riffs spew forth from your speakers like bullets from a gun, with the added thrill of razor-like shrapnel. There's more than a hint of death metal in the mix and yet Sadistic Ritual is firmly entrenched in the thrash camp. Speed isn't their only trick though, the band also nicely incorporates slower sections and some huge palm-muted based riffage, like on the super heavy 'Murmur'. 'Maelstrom of Consciousness' is a personal fave, with its slightly off kilter intro, and start/stop structure and complex arrangement.
Probably the most psychedelic parts of the album are in instrumental 'The Blood of Memory', which is a bit more laid back than some of the other material here with some delicious lead work, and lots of cool sections. The album rounds off with the awesome title track, with its chaotic, and unpredictable riffage and driving pulse.
So there we have it, not quite the trip I was imagining, but a very enjoyable, if not quite as advertised, slice of thrash that certainly had me raging around the conservatory like a man on acid! Enjoy.