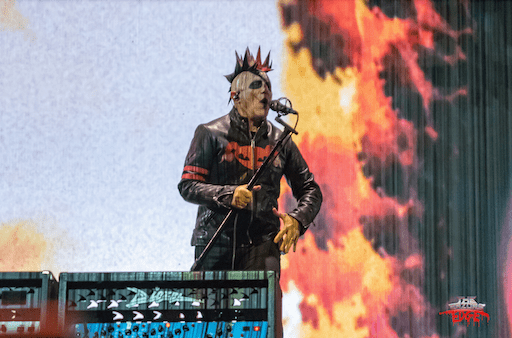 Live Review: Tool - AO Arena, Manchester
2nd May 2022
Support: Brass Against
Words: Dan Barnes
Photos: Tim Finch
Give or take a few weeks and it's twenty-years since I last saw Tool. That was an overcast – and sometimes rainy - day in the East Midlands, at the UK's Ozzfest, on a bill that also featured the likes of System of a Down, Slayer, Cradle of Filth and was headlined by the-then newest reality star on MTV: Ozzy Osbourne.
Scheduling issues meant I missed the 10,000 Days trek in 2006, yet little did I know that it would be more than a decade and a half before Tool would return to Manchester; had I been blessed with such foresight, I'm sure I would have moved some stuff around back then.
Still, hindsight is always 20/20, and now the band has returned on a Bank Holiday evening in May, to weave the magic that only Tool know how to conjure.
There's a palpable sense of expectation around the sold-out arena tonight, something in the air that you can feel, fizzing away in the attendant faithful. But before the rite can begin, support act, Brass Against, have forty-minutes to entertain us all.
For bands with such a hardcore fan-base as Tool – along with the likes of Iron Maiden, AC/DC and Kiss, etc – support bands are at best distractions from the event about to come. On paper a mainly-brass-sectioned octet may not be the most thrilling way to open the show but it is very Tool to bring such a band out on the road with them.
In reality, the New York City gang are a blast. Their renditions of Led Zeppelin, Audioslave and Rage Against the Machine numbers and one or two originals makes for a thoroughly entertaining time. It's bitter-sweet when they play Stinkfist and Forty-Six and Two as it means the main band are unlikely to be playing those tracks, but Brass Against do fair renditions of both and, in the end, acquit themselves admirably.
Luckily, the crowd doesn't have to wait too long for Tool to appear. Playing their first three and a half songs behind a thin gauze curtain, upon which the fantastical artwork of long-time collaborator, Alex Grey, is projected. The stage itself is quite bare, yet the panoramic vistas filling the rear of the set make for a transcendental experience.
Whether they be fiery-red hellscapes, ice-cold images of the cosmos or ancient pyramidical structures, they reflect not only the immediate context of the songs they illustrate, but the wider ethos of the band itself.
It's fair to say Fear Inoculum divided the fan-base on its release back in 2019 and here, nearly three years later, opinions are still split. Either seven or five (depending on how you view the interludes) of that album's tracks are aired tonight, kicking off with the title track's slow build and ending with the defiance of aging that is Invincible.
Between these bookends are glorious versions of Descending and a worth-the-admission-price-alone version of Pneuma; after the intermission the whole band gather at the front of the stage for Culling Voices and it is the only time Maynard ventures forth from the vocal plinths flanking Danny's drums. A rain of confetti falls from the arena's ceiling during this gentle section and continues to fall as the songs kicks into its rambunctious finale.
The night isn't just about Fear Inoculum though and Tool are quick to make deep dives into their past, pulling out Opiate from the debut EP, Pushit and Hooker with a Penis from AEnima and The Pot from the previous album.
Immediately after the final chords of Pneuma quieted the band made their one and only visit to Lateralus in the shape of the opening three tracks: The Grudge, Eon Blue Apocalypse and The Patient, the former especially sounding fierce and bruising.
Sadly, nothing from Undertow this evening, but it would have been nice to hear Sober or Prison Sex. That said, you could fill a second setlist with all the tracks I would have liked to hear tonight. Parabola, Vicarious, AEnima, Schism; they'd still be playing now if it was a By Request show.
It goes without saying the band were on imperious form when it comes to the performance. From Danny and Justin's rhythm play to Adam's spiralling, weaving guitar alchemy, through to Maynard's unique vocal delivery and acerbic between-song addresses.
Sitting in the Manchester Arena tonight and immersing myself in the visual and auditory experience that is Tool live became somewhat spiritually enlightening, as though the third eye had been opened. Everything else melted away and it was just me and the sensory stimulus becoming a singularity in time and space, enabling me to see a world beyond physical and cerebral constructs.
Then I got stuck in traffic on the way home, which certainly put paid to my new-found inner peace.
Terms like 'unique' and 'genius' are banded around a lot and are often directed toward the unworthy. Tool, on the other hand are precisely what those monikers are designed for. To some people their music is pretentious and overly complicated, which is fine as everyone is entitled to an opinion; to others, they are the torch-bearers on a journey toward… and that's a sentence that cannot be concluded until the destination is reached.
Sitting in that traffic, my spiritual enlightment ebbing away due to a Fiat 500, I imagined what I'd just experienced must have been what it was like to see Pink Floyd back in the day. It was less a concert and more a religious rite, the bearing witness to something bigger than four men with guitars, drums and a microphone and the remit of all art to challenge and questions