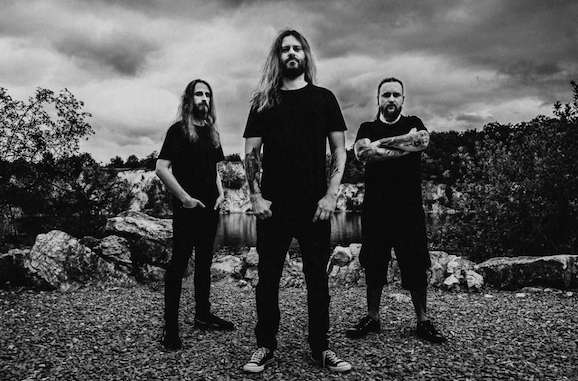 Decapitated Release New Video 'Just A Cigarette'
The release of Decapitated's long-awaited new album Cancer Culture is getting closer and closer. Across eight studio albums, Decapitated grew from the adolescent dream of teenagers from a small Central European town, to one of the leaders of the metal genre. Each successive album has further expanded the band's sound with genre-bending authenticity and integrity.
Today, we get yet another taste of what Cancer Culture has to offer, with their newest single 'Just A Cigarette'.
Guitarist and songwriter Vogg comments on the song:
"Just A Cigarette is a powerful, epic, melodic death metal song about human life expectations and death. It was the first song I wrote for Cancer Culture, which shaped the whole album. To present the track in a way which affected the listeners' senses even more, we wanted to deliver it with a great piece of art. For this occasion, we teamed up with the Polish artist Marcin Białas, who let us use his fantastic gravure prints, which we used in our video as well."
The official video for the new banger was filmed and directed by Marcin Halerz in Krakow, Poland. The track is a technical death metal masterpiece, accompanied by a pure metal video.
Pre-save Cancer Culture here: https://bfan.link/DecapitatedAlbum
The band recently announced a co-headline tour with label mates Despised Icon for this autumn.
Check out the dates below!
DESPISED ICON / DECAPITATED
Brand Of Sacrifice, Distant, Viscera
29.10.22 Germany Hannover @ Faust
30.10.22 Germany Wiesbaden @ Schlachthof
31.10.22 Belgium Brussels @ Botanique
01.11.22 UK London @ The Electric Ballroom
02.11.22 UK Bristol @ SWX
03.11.22 UK Birmingham @ The Mill
04.11.22 UK Glasgow @ Garage
05.11.22 UK Manchester @ Damnation Fest (without BOS, Viscera)
06.11.22 France Paris @ La Machine du Moulin Rouge
07.11.22 France Lyon @ CCO
08.11.22 Switzerland Pratteln @ Z7
09.11.22 Germany Munich @ Backstage
10.11.22 Italy Milan @ Slaughter Club
11.11.22 Slovenia Ljubljana @ Orto Bar
12.11.22 Hungary Budapest @ Dürer Kert
13.11.22 Czech Rep Prague @ Meet Factory
14.11.22 Poland Warsaw @ Proxima
15.11.22 Germany Leipzig @ Felsenkeller
16.11.22 Germany Berlin @ SO36
17.11.22 Germany Hamburg @ Gruenspan
18.11.22 Netherlands Tilburg @ 013
19.11.22 Germany Bochum @ Matrix