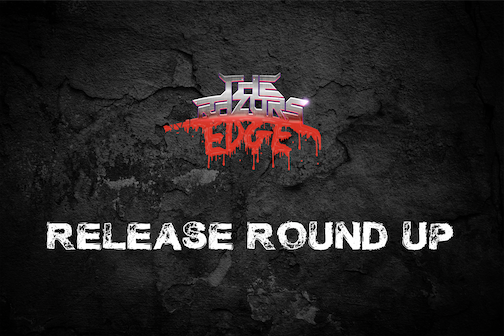 Release Round Up - May 13th, 2022
Every Friday there is a tidal wave of new music released unto the world. Whilst we try to cover as much as possible here at The Razor's Edge, it's not always possible to review everything. So each week on a Friday we'll round up some of the best new music available, some we've reviewed, some we haven't, but all worth checking out!
Theres a lot of new heavy music hitting the airwaves this week, everything from black metal, death metal, gothic metal, Stoner rock, doom, thrash metal and even some of your traditional heavy fuckin' metal!
Here's what we think you should check out today!
Opeth release an extended edition of latest album 'In Cauda Venenum' this week via Atomic Fire Records.
"It's a harmonious, complex, and strangely joyous"
Read our full review here.
Canterbury's Famyne release their eagerly awaiting sophomore album 'The Ground Below' this week on Svart Records.
"thunderously heavy cacophony of demonic riffs"
Read our full review here.
Cage Fight announce themselves on the scene this week with their hardcore/thrash blend on their self titled debut for Candlelight Records.
"pummelling, aggressive hardcore, complete with machine gun guitars and raw vocals."
Read our review here.
Misery Index release their 7th studio album this week via Century Media Records.
"An intense rage fuelled record, full of rapid fire grindy sections and killer death metal grooves."
Read our full review here.
Prog rock legends The Pineapple Thief return with 'Give It Back' this week on Kscope.
"A dramatic rolling piece that explodes into life."
Read our review here.
Cairns reveal their black metal stylings on new EP 'Keening' released this week via Clobber Records.
"A potent, awe-inspiring piece of atmospheric black metal"
Read our full review here.
Death metal veterans Jungle Rot unleash 'A Call To Arms' via Unique Leader Records this week.
"It's so polished for a death medal record that it's intoxicating to behold"
Read our full review here.
The legendary Carnivore featuring the late, great Pete Steel reissue their self titled album on Cherry Red Records this week.
"Controversial and confrontational, Carnivore never set out to be your Granny's favourite band."
Read our full review here.
New Jersey death metal outfit Blasphematory unleash 'The Lower Catacombs' this week via Nuclear Winter.
"it's the filth of the bass which will first get your attention not merely by its strength and power but, how raw and unrefined it comes across"
Read our full review here.
Finnish black metallers Moonlight Sorcery release 'Piercing Through the Frozen Eternity' on Avantgarde Music this week.
"takes its inspiration from classics of the genre but with a modern splash"
Read our full review here.
And thats just the tip of the iceberg! Other releases today we think you should check out include...
Rock / Hard Rock / Classic Rock
Burn the Highway - Weapon X (Self-released)
In Twilight's Embrace - Lifeblood (Malignant Voices)
Heavy Metal
Anniken - Climb Out of Hell (Rockshots Records)
Bridear - Aegis of Athena (Setsuzoku Records)
Deepshade - Glaoming [EP] (Self-released)
Heterochrome - From The Ashes (Self-released)
Master Boot Record - Personal Computer (Metal Blade)
The Boneless Ones - Back To The Grind (Lightning Records)
The Gates - ...of Pandemonium (Northern Silence Productions)
Virgin Idol - Virgin Idol (Super Sargasso Records)
Death Metal
Cartilage - The Deader The Better (Creator-Destructor Records)
Cyphonism - Cosmic Voidance [EP] (Black Sunset)
Flesh Configuration - Adapt Swarm Planet (Vargheist Records)
Gonemage - Master of Disgust [EP] (Self-released)
Intolerance - Dark Paths of Humanity (Godz ov War Productions)
Miscreation - Miscreation MMXXI [EP] (Self-released)
Oratory - Inner Pyre [EP] (Self-released)
Putrid Evocation - Eternal Gloom [EP] (Burning Coffin Records)
Ruinas - Resurrekzion (Spikerot Records)
Suffer UK - The Narrow [SINGLE] (Self-released)
Where's My Bible - Circle (Inverse Records)
Writhing Shadows - Writhing Shadows (Dawnbreed Records)
Black Metal
Ante-Inferno - Antediluvian Dreamscapes (Vendetta Records)
Funeral Procession - Schmerz Aus Licht / The Red Vine Litanies (Korpituli Productions)
Katharos - Of Lineages Long Forgotten (Willowtip Records)
Misanthropic Rage - Hallucinatory Phenomena (Godz ov War Productions)
Nastergal - Solitude [EP] (WormholeDeath Records)
Nechochwen - Kanawha Black (Bindrune Recordings)
Sacred Son - The Foul Deth of Engelond (Self-released)
Scitalis - Doomed Before Time (Vendetta Records)
Synteleia - The Secret Last Syllable (Floga)
Stoner Rock / Psych / Doom / Sludge
Cauchemar - Rosa Mystica (Temple of Mystery)
Ecstatic Vision - Elusive Mojo (Heavy Psych Sounds)
The Same River - Weight of the World (Sliptrick Records)
Woorms - Fatalismo (SuperNova Records)
Thrash Metal
Demiricous - Chaotic Lethal (Post. Recordings)
HILD - Obliterating Silence (Self-released)
Mezzrow - Then Came The Killing [REISSUE] (Hammerheart Records)
Prog Rock /  Metal
Celestial Burst - The Maze [EP] (WormholeDeath Records)
Giant Walker - All In Good Time (Self-released)
Hiraki - Alterer (Nefarious Industries)
EPIC Metal
Ash of Ashes - Traces (Self-released)
Battle Symphony - War on Earth (Soman Records)
Gothic Metal
Everlust - The Tales of the Noble Knight [EP] (WormholeDeath Records)
Outshine - Awakening (Rockshots Records)
And the rest...
Dream Vision - Rêves (Self-released) [Post-Rock]
Glassbone - Spirals [EP] (Bloodblast Distribution) [Industrial Metal]
Mondo Podre - Necronomía De Subexistencia (Colectivo Bilis) [Grindcore]
Skaven - Flowers Of Flesh And Blood (Carbonized Records) [Crust Punk]
State Champs - Kings of the New Age (Pure Noise Records) [Pop Punk]
Visions of Atlantis - Pirates (Napalm Records) [Power Metal]
Void of Light - Void of Light (Self-released) [Post-Metal]