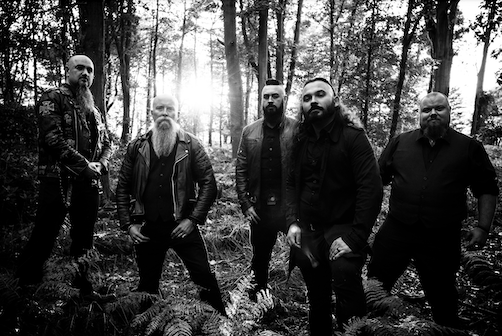 Album Review: Consecration - Cinis
Reviewed by Sam Jones
Consecration, home grown death/doom from Norfolk here in the UK, have been consistently releasing material since their inception back in 2010. Right from the start, with their debut EP Gut The Priest, the band were looking to stamp their mark on the world of British extreme metal; efforts such as these only continued until their first full length record, Ephemerality, launched back in 2014. It wouldn't be for another five years that the band would release another studio album, but 2019 would finally see Consecration release Fragilium and now, three years down the line, the band once again look to give fans, new and old alike, additional tastes of what they have to bring to the table. I was very interested in what Consecration could do for me and without further ado, let's take a look at their simply named record that is Cinis.
What struck me in the face as soon as this record began, was the band's choice of production and guitar tone for the sound they've harnessed. When we think of death/doom we usually perceive of productions that are dirty, that manage to help convey the riff's sense of despair. That simply isn't the case here which is a rarity amongst this style. Here, Consecration opted for a straight up, solid guitar tone that packs all the compact, dense tone you would hear in a conventional death metal, or supercharged heavy metal sound. If anything, it reminds me of what Warcrab did in their last album where the band are looking to exemplify their soundscape through an honest guitar tone that isn't prepared to let loose any lingering tone. What can be said though, is how the guitar work here doesn't mistake you into thinking their sound is going in any other direction than the one the band are sending you down. Chord changes and songwriting are clear from the get go, showcasing how the band are asserting themselves into control from the first track onwards.
Carrying on with this train of thought, the band have a definite idea as to what they wished their sound to consist of. There's no implication of a production that's looking to drown you in the mire, nor are the band looking to envelop you in a pit of your darkest days. Judging by the riffs and the way the band conduct their songwriting, it's abundantly clear their approach to death/doom certainly leans further toward the death metal side of things since this record would rather see you battered into the earth as opposed to burying you slowly into it. With that said though, tracks can be fairly lengthy from time to time and the overall songwriting possesses a keen doom element to the record's sound. What I like about their doom aspect however, is that it's not the main feature of the band. If you want a band that gives you that alleviation from a total doom soundscape, then Consecration are one such option. I think that's why their doom edge comes across with as much vigour and strength as it does when the band employ it; Consecration are looking to do more than your typical death/doom outlet.
It's not until you really listen attentively to the vocals, you realise just how raw this record actually is for a work of death/doom. Vocally it's no different to anything you'd expect from this style: the depth, the baritone nature of the delivery is here but what is missing isn't a design oversight, it's an integral choice the band made for this album. The bass throughout their performance is only quite minimal, resulting in only a minute impact. As a result, the vocals don't have all that much to bounce off of within the instrumentation; therefore the vocals are striking against the walls of this album far more than other death/doom acts would ever allow. Since Cinis is such a guitar-led record, you're really able to feel the depths these vocals are reaching because there is little to muddle and murk their performance. The differing tones the vocals and riffs possess at times, can give this record a hollow sound now and again but it never actively prevents you from enjoying what they have in store for you. Consecration are able to keep us thoroughly engaged throughout lengthy tracks that other bands, even with all the atmospheric elements at their disposal, are often unable to do.
Structurally I'd argue the band made some good decisions. When you observe the track listing you'll see that, the final two full length tracks aside, the album switches back and forth between a longer track and a shorter piece. One track may be 8 minutes and the next is 5 before being followed up an 11 minute opus, which is succeeded by a 1 minute interval. Personally I think this was a good idea as their style of death/doom, while punching and capable at engaging us, is not as fully immersive and totally atmospheric as many other death/doom bands would prefer to be. However, that is down to the aesthetic choices of Consecration, the band have determined what they wanted to consist of but also what they did not want to be as well. Cinis, being their third album, is a testimony to their vision for what they believed death/doom could mean for them. The primary immersive element is the songwriting itself, which has been stripped down to its barest niceties where death/doom is considered. Breaking up the flow of their record therefore wasn't merely a design choice, it was necessary to ensure continued engagement and enjoyment of the record.
In conclusion, I enjoyed what this album offered. Is it far from what I was anticipating for a death/doom record? Yes. But that doesn't lessen the fun I had whilst checking this album out. It's an album that, while still purporting traditional doom vibes, certainly leans more towards the death metal side of things most of the time. The band's songwriting definitely showcases what they would prefer to play, and how they prefer to play. But it's also a nice breather in death/doom where there's no threat of being crushed by the tone of the record's soundscape, nor is the instrumentation at any point looking to get between you and the clarity the record may present. It's a very cut and dry album where what you hear has nothing getting in the way, there's no fuzz or crushing miasma separating you from the songwriting. All in all, while this wouldn't be my go to choice for a death/doom sound, Consecration's songwriting gives us an honest band who know what they're about and aren't afraid to step out from under established shadows.