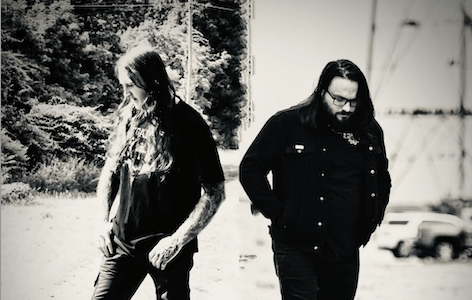 Album Review: Evil In - Age Of Immortal Darkness
Reviewed by Sam Jones
Only formed in 2021 out from Massachusetts, United States, this is an extremely recent addition to the metal world having only released an EP through Evil In titled An Ethereal Force Beyond last year; in addition guitarist Murphy also runs the moniker of Iridescent Dune, having churned out a ton of Singles before releasing the first album under this name last year: Evolve. So, through Evil In, let's look behind the curtains that Murphy has been making his name in and decipher as to what Age Of Immortal Darkness may have in store for us.
From observing the notes for this record, it's worth acknowledging that this isn't a long album. The entire thing, intro and outro included, can be consumed within 25 minutes. That makes for a very fast and quick listen. It also means audiences who do take to this album need not worry over future, repeated listens because they'll know they can get the most out of this album without committing large swathes of time to it. Additionally, the record is bookmarked by an intro and outro that's entirely atmospheric, utilising the only synth work this record sports. As a result, it's beginning and end feels eventful, creating the perception that the album is equally beckoning and saying farewell across its respective moments. Tracks aren't too long either, they get in then get you without delving into too much detail through their songwriting, giving you just enough to warrant their runtimes without splurging unnecessarily.
It's interesting to hear death metal that doesn't possess a downtuned or crushing soundscape for a change. When you listen to this record, the first real track doesn't seek to plow you into the earth but rather, it allows you the room to breathe. Evil In allow you to take in all this record has to deliver, the riffs have this particularly electric tone to them as you can feel the backend of their tone following the end of particular chords. What's more, I loved how the songwriting really exhibited the keen guitar skill the band demonstrate. Solos and freeform guitar playing are cool to listen to, you can tell the guitarist has clear talent and has been enabled to let loose from time to time. In addition, it isn't flashy either. It's entertaining enough without it showing off, still being perceived as integral to the songwriting.
I appreciated the drums here. It's evident that Evil In didn't intend this to be an overtly punishing album, the songwriting and general album tone gives that much away. Most importantly, the drums are constantly moving back and forth between a conventional performance and then roping in more extreme patterns. As a result, techniques like blast beats are only utilised when the songwriting truly demands it, or if the intensity is really starting to amplify. By doing so, the drums help signify when your attention should reach its peak as the drumming effectively signposts when the band may wish to ramp things up. It's also nice to notice they aren't that heavy either; much like the album itself the atmosphere isn't all that total and allows you to think and experience everything the band can offer. The same goes for the drums, for they're rather light and even during their more aggressive phases they never seem to devastate their audience.
It's curious to note how Evil In are not obsessed with speed. There is a track or two contained within that do not fervently rely on speed, and not only are they well written pieces but they're hotly welcomed. It's honestly a nice change to hear a death metal act give us a few songs here and there, that are predominately paced at a steady rate. It still feels heavy, the power is there as is the songwriting, except it's delivered in a way that won't leave the audience gasping for what just passed them by. It also serves as a nice break in the flow of the record, especially a shorter affair as this album is. We could say it helps to pad the record out a touch but honestly it aids the band in ensuring their record isn't viewed as some overly rapid experience. Slowing things down, in the right places, can really accentuate certain tracks' importance to the record and that's exactly what Evil In pulled off here.
In conclusion, Age Of Immortal Darkness is an album I actually quite enjoyed. The main reason for this is how it never sought to pummel me, it took me in and held me captive but I never felt as a prisoner to it. The album almost works alongside you to help you feel comfortable listening to it, all the while it, from time to time, breaking out into more aggressive tones to justify its standing as a death medal record. It was well produced, exciting and you can tell some real thought and planning went into the songwriting. Riffs have great variety as well as solos being the entertaining forces that they are. All in all, this album could be a potential gateway piece for new fans getting into extreme metal as Evil In really alleviate their pressure on the pedal, allowing their audience to breathe and enjoy their time spent on this album. Evil In go to show you that death metal doesn't always need to be hyper serious.