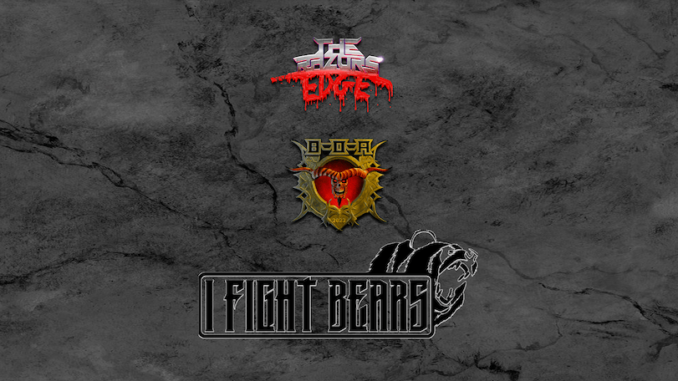 Bloodstock 2022: Introducing - I Fight Bears 
As Bloodstock gets closer, we delve deep into the line up to find out more about some of the bands playing the New Blood and Jägermeister stages at this years event.
Today we chat with Drew, bassist with I Fight Bears!
The Razor's Edge: Please introduce yourself and your band mates.
Drew: Hey, I'm Drew Hamley - Bass Player / Vocals of I Fight Bears.
Also in the band we have Dan Blackmore - Vocals, Marc James - Guitars, Chris Treharne - Guitars and Scott Preece - Drums
The Razor's Edge: How would you describe your style of metal?
Drew: I'd say we're a mixture of 2000s style metalcore and classic metal with some modern twists
sprinkled on top.
The Razor's Edge: How did you land your spot on the Bloodstock bill?
Drew: So the regional M2TM comp takes place every year (when pandemics aren't ruining everything) and the South Wales region has always been a great part of the competition with some of the best bands competing for that coveted slot on the New Blood Stage.
This year we decided to enter. We had a new EP dropping around the time of the competition and felt it would be a great way to get the word out about these new songs. We didn't have ambitions of winning going into this but we did at least want to get through to the final.
There were some touch and go moments in the early stages when we played with some incredible acts who we felt deserved to go through. But somehow, it went our way and we made it to the final with five other incredible acts. It could have been anyones on a different day but Simon Hall called our name out and we're still coming to terms with that.
The Razor's Edge: How tough was the M2TM competition this year?
Drew: It was incredibly tough! So many great bands come through this competition every year and this year was no exception. Every band we played with gave it their all and it gave us more reason to work harder and be the most professional we could be. I'm just glad I'm not a judge having to make that decision!
The Razor's Edge: What does playing at Bloodstock mean to you?
Drew: It means a hell of a lot. We've been at this for a number of years chipping away at it, playing the toilet circuit as much as possible, trying to improve our music and our live show as we go. Loads of awesome bands never get the chance to break through and play a huge stage like the ones at Bloodstock. We are incredibly fortunate for that opportunity and will try to make the most of this pivotal moment.
The Razor's Edge: For people who've never seen you live, what can they expect at Bloodstock?
Drew: Well, I guess you'll have to come see us to know that! All I'll say is we're here to entertain you. That's our job and we're going to go HARD when we hit that stage!
The Razor's Edge: What day are you performing?
Drew: We will be playing the New Blood Stage Friday 12th August at Bloodstock.
The Razor's Edge: What other bands are you looking forward to watching at Bloodstock this year?
Drew: There's so many great bands on this years lineup. Lamb Of God, Sleep Token, Bury Tomorrow, Sylosis just to name a few that we're keen to watch but I'm hoping to catch some of the other regional winners of M2TM too.
The Razor's Edge: Playing the New Blood Stage is just the first stepping stone in a bands journey.
What's next in your plans for world domination?
Drew: Even if we hadn't won this amazing opportunity, we always planned on working on and releasing new material. So we're slowly beginning work on the follow up to our new EP 'Liberosis' whether that turns into another EP or an album we're not sure yet. We're also making plans to get out and play a lot more post Bloodstock so watch this space!
The Razor's Edge: See you at Bloodstock in a few weeks!
Drew: Roger that! We'll see you there!
I Fight Bears are no strangers to us here at The Razor's Edge. A few months ago we found them shipwrecked on Devil's Island, you can find out what happened here!