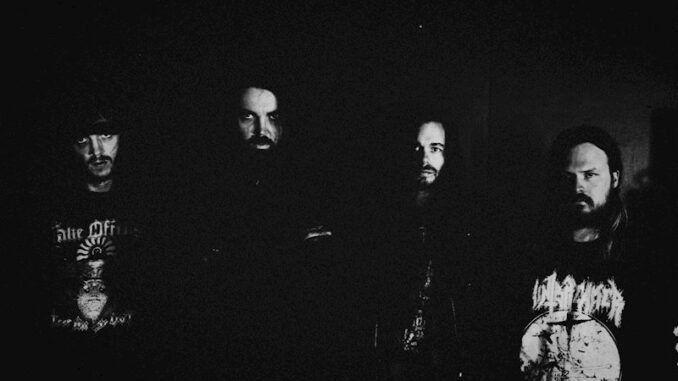 EP Review: Plague Years - All Will Suffer
Reviewed by Matthew Williams
It's not often that I start a review with these words, but this EP from Detroit based thrashers Plague Years should be on everyone's playlist for the rest of the year. From the first listen to the umpteenth listen, this is sheer brutal, postmodern, hardcore thrash at its finest.
Now, we know that the thrash world can sometimes be formulaic, with bands taking the simple approach to the genre, but there is something very different to the way that Plague Years have approached these new songs, as it's an unrelenting assault born of the cataclysmic convergence of thrash and reverb-soaked hardcore fury, with blackened death and madness to spare.
The foursome's journey began when they revved up their engines in 2017, releasing a self-titled EP, full of their spite and anger, which paved the way for the 2020 release of 'Circle of Darkness', which Metal Injection called "a modern thrash classic". And they have now returned with four new slabs of death thrashing mania.
It begins with 'Make you Mortal' which dives head first into a barrage of noise, killer riffs, and a delectable drum beat from Mike Jurysta, before Tim Engelhardt's brutal voice takes control of the song, and noses begin to bleed as the music pounds your head into submission. I really enjoy the hardcore elements mixed in with this track, and the riff from guitarist Eric Lauder is nasty and crushing.
But then comes along 'Suffer', and this is quite an apt title as when the song is played live, it picks up the pace about a minute in, the pit will be brutal and vicious, so suffer you shall. Riffs a plenty in this one, and it really puts a smile on my face, the death metal vocals added are in the right places at the right time, and it's a vicious assault on your senses.
'Reality of Filth' has that chugging sort of riff that hardcore fans will approve of, paying homage to Michigan's hardcore-punk outfit Negative Approach, and it's both gritty and crushing in equal measure, but fits in perfectly, showing a bit of diversity from straight up thrash, and with a sadistic smile, the EP is completed with 'Cursed', which is another song destined to inflict the maximum amount of pain on the body, I was tempted to start a circle pit by myself just listening to this one. With relentless drumming and excellent bass licks from Rian Staber, the rhythm section allows the talented Lauder to shine with Slayer type solos.
It's times like this that you know that the future of hardcore thrash is in safe hands, and Plague Years will be at the forefront of that movement.