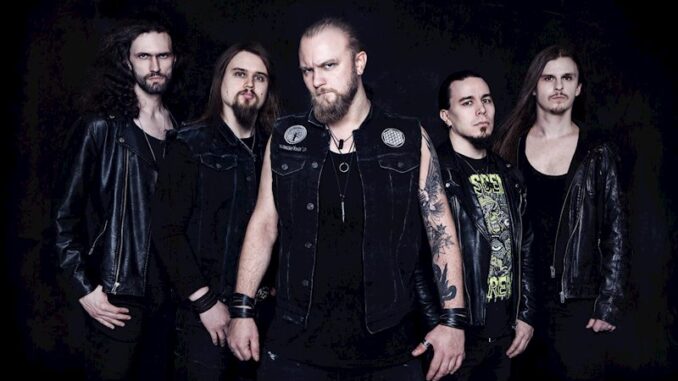 Album Review: Brymir - Voices In The Sky
Reviewed by Richard Oliver
Brymir are a band that fell onto my radar last year when I came across their 2019 album Wings Of Fire. The bombastic mix of melodic death metal, folk metal and symphonic metal ticked loads of my boxes and the band almost immediately gained a new fan so I'm highly anticipating the release of the fourth album from the band Voices In The Sky. Thankfully my anticipation of this release was not in vain as Voices In The Sky is another fantastic album from Brymir.
This time around Brymir incorporate a more modern melodic death metal sound with chugging riffs and fat grooves mixing with their cinematic and folk metal soundscapes. The melodies are still all there though and they are humongous drawing in influence from power metal as well as epic movie soundtracks. It's an irresistible combination as evidenced in songs such as Fly With Me which squeezes in crushing riffs and piledriving rhythms with a vast epic soundscape, folk instrumentation and absolutely majestic melodies. The folk and symphonic elements are brought to the fore in the galloping and glorious Herald Of Aegir but epic moments are abound throughout such as in the slower paced Rift Between Us and the magnificent Far From Home. The album is also full of fast, bouncy and fun songs such as Forged In War, Borderland and Seeds Of Downfall which get the blood pumping and are bound to get the room bouncing if they are played live when Brymir go out on tour.
The musicianship on display throughout the album is astounding with the guitar work from Joona Björkroth (also of Battle Beast) and Sean Haslam being a dazzling display of fierce riffwork and magnificent solos. The rhythm section of Jarkko Niemi on bass and Patrik Fält on drums hold everything together with some thundering bass and pounding drumwork. Viktor Gullichsen has a harsh vocal style which is quite reminiscent of Bjorn "Speed" Strid from Soilwork and his vocals are ably backed by backing vocals and choirs which accentuate the epic feel of the album. Add in Viktor's stunning orchestrations and arm hairs are guaranteed to be standing on end.
Voices In The Sky is a stunning achievement from Brymir. It is an album where they have upped their game on every level. The album sounds fuller, richer, heavier and far more bombastic than the band have ever been before. A stunning piece of folk-leaning, cinematic and melodic death metal.