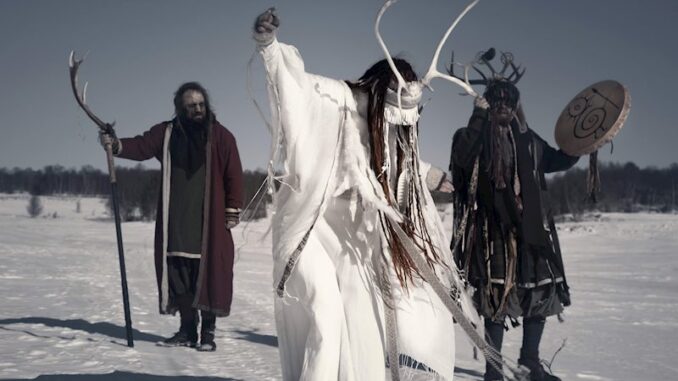 Album Review: Heilung - Drif
Reviewed by Paul Hutchings
Mention the collective known as Heilung in metal circles and you are either met with a blank stare or an acknowledgement that you know about one of the most enigmatic, inspirational, and mystical bands around today. Those in the know nod sagely, aware of the uniqueness and mystique that swirls around this band like tendrils of mist.
Their sound is described by themselves as "amplified history" as they aim to connect modern society with the beginnings of rudimentary humanity via their music. The music draws deeply on experimental folk, utilises runic texts from Germanic populations of the bronze and iron age and prehistoric Northern Europe.
Unlike their previous two albums, on 'Drif' Heilung change their direction of focus towards exploration of great rudimentary civilisations outside of Europe. 'Drif' means gathering, and as you listen to the album, you'll find compositions drawn from far wider than just Northern Europe. Heilung link the civilisations that had evolved, traded, and interacted with each other.
It's important to listen to 'Drif' through decent headphones. The first time I didn't do that and it's fair to say that I lost much of the impact. The result of wearing those headphones is a stunning, absorbing, and frankly beautiful creation that only Wardruna can get anywhere near, and their sound is far different to the sonic experience that Heilung create. 'Drif' is an album of such complexity, creativity, and originality that it's almost impossible to provide a review that does justice. How do you comment on an eight-minute poem 'Keltentrauer,' written about Celtic tribes clashing with the Roman war machine and being slaughtered in the process. Narrated in New High German with Gaelic chants and harrowing screams shouts, the effects provide some comprehension of what is taking place, transporting the listener to those far off battles. It's captivating, even if you don't fully understand what is being said.
'Drif' is an album that needs time. You need to immerse yourself deeply into it. I've not had sufficient time to go as deep as I'd have liked. It's not a release that you can pick highlights from either. The opening love song 'Asja' and the spell that is conjured on 'Anoana' that follows are both intoxicating. The vocals of Maria Franz are sublime, the instrumentation including authentic throat singing, rattles and ritual bells, human bones all combine with producer and founding member Christopher Juul's subtly placed electronic touches. The result is incredible – a layered and deep musical soundscape.
The longest track on the album is also probably the simplest yet most confusing. A 13-minute palindrome, 'Tenet' evolves as the track progresses, the repetition compelling and hypnotic. It's based on the Sator Square the earliest datable two-dimensional palindrome, first found in Herculaneum (Italy), buried in the eruptions of Vesuvius in 79AD. The song slowly increases in tempo and dramatic intent, with the repetition building the tension and atmosphere.
Musically spectacular, the tension generated by the songs is electric. The combinations provide such aural stimulation that it is almost indescribable. The acoustics utilised in the ancient way on 'Nesso' echo and resonate, allowing Maria Franz to sing directly into a resonating copper string tuned to the same note providing a haunting result. Footsteps on gravel and hay, with a male vocal underneath Maria's voice imitates the exorcism of a worm from a horse's leg via a traditional spell. This contrasts with the curse which is generated on 'Buslas Bann,' inspired by Icelandic runes of the 13th century. Both incredible, as is the finale of the 50 names of 'Marduk' which closes the album in creative and thrilling fashion.
'Drif' is an album that needs to be heard. It needs to be experienced and absorbed. The result is incredible. Some won't get it. Some won't like it. I'm not sure where I sit yet, but this is an album like nothing else.