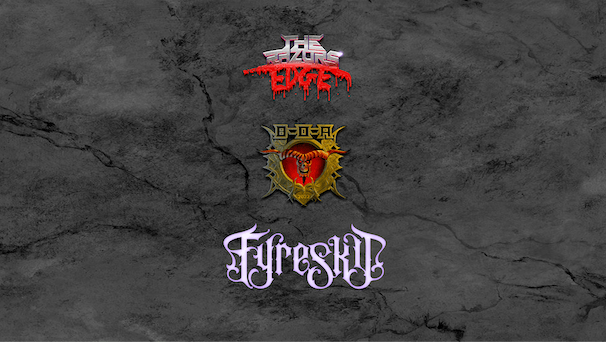 Bloodstock 2022: Introducing - Fyresky
As Bloodstock gets closer, we delve deep into the line up to find out more about some of the bands playing the New Blood and Jägermeister stages at this years event.
Today we chat with Fyresky!
The Razor's Edge: Please introduce yourself and your band mates.
Fyresky: FyreSky are:
Gabriel Valentine - Vocals and guitars
EvilKris13 - Bass and vocal
Nicole Lastauskas - Guitars and vocal
Ben "Bruce" Green - Drums and vocal
The Razor's Edge: How would you describe your style of metal?
Fyresky: We've been described as the lovechild of HIM and Black Stone Cherry, so if we pigeonhole the genre it'd be Goth rock / Metal
The Razor's Edge: How did you land your spot on the Bloodstock bill?
Fyresky: Through the grace of the crowds and a massive effort, we won M2TM Kent!
The Razor's Edge: How tough was the competition this year?
Fyresky: It was a hell of a fight, there were so many awesome bands it was too close to call at every heat and Semifinal.
The Razor's Edge: What does playing at Bloodstock mean to you?
Fyresky: For us its validation; all the hard work we've put in, all the behind the scenes support from our family and friends, and all the shows and rehearsal time is appreciated and enjoyed.
Bloodstock itself is a major milestone for us, it's an incredible community and an ideal platform to elevate ourselves and fellow M2TM bands to new heights; it's an honour to play there.
The Razor's Edge: For people who've never seen you live, what can they expect at Bloodstock?
Fyresky: I'd say be warned for a fully immersive and interactive set, anything from roaring guitars and thunderous rhythm section to sing-along vocal acrobatics. Four miserable goths throwing themselves around on stage with ironic smiles on our faces. We were recently referred to as Goth Metal with a sense of humour!
The Razor's Edge: What day are you performing?
Fyresky: We're playing on Friday 12th!
The Razor's Edge: What other bands are you looking forward to watching at Bloodstock this year?
Fyresky: We've got a range of bands we'd love to get out and see, including Jinjer, Dimmu Borgir and Behemoth! Also our Essex Counterparts Existentialist, and Kent wild card band Silen all on the new blood stage, along with our friends Syncolima who are on Jagermeister stage!
The Razor's Edge: Playing the New Blood Stage is just the first stepping stone in a bands journey. What's next in your plans for world domination?
Fyresky: The same thing we do every night, Pinky... try to take over the world!
In all seriousness we're finally drawing near to recording our next album, looking to enter the studio in September to lay down a minimum of 10 brand new songs for you to mope to, cry to, and fall in hopeless love with.
The Razor's Edge: See you at Bloodstock later this week!
Fyresky: We can't wait to tread the boards at Bloodstock 2022, we'll see you there !