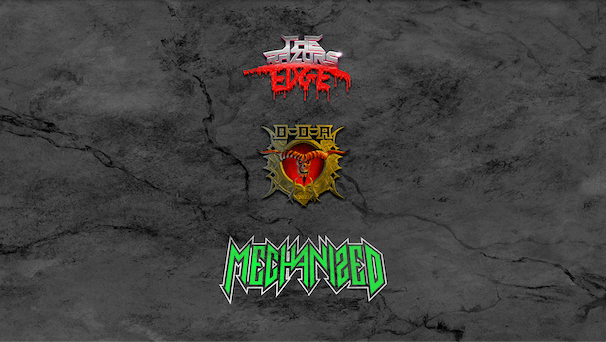 Bloodstock 2022: Introducing - Mechanized
As Bloodstock gets closer, we delve deep into the line up to find out more about some of the bands playing the New Blood and Jägermeister stages at this years event.
Today we chat with Dave, drummer of Mechanized!
The Razor's Edge: Please introduce yourself and your band mates.
Dave: Dave Parsons(me) – Drums, Rohan James – Bass and Backing Vox, Andy Prowse – Guitar and Backing Vox, Dom Forsyth – Guitar, Andy George – Lead Vocals
The Razor's Edge: How would you describe your style of metal?
Dave: We play play our own brand of thrash/death/speed metal mixing traditional and modern elements, with plenty of grove, loads of pace and epic melodic harmonies.
The Razor's Edge: How did you land your spot on the Bloodstock bill?
Dave: We won the Devon and Cornwall M2TM.
The Razor's Edge: How tough was the competition this year?
Dave: The competition was fierce, all bands in the final really brought their A game, despite there was a real sense of camaraderie between us all.
The Razor's Edge: What does playing at Bloodstock mean to you?
Dave: Absolutely everything! Whilst many of us have played in a variety of acts before, this is a very new band. We started jamming together not long before Covid really hit and had so many debut shows stolen by the pandemic but we didn't let that get us down and really focused so we could come out the gate swinging hard. We've only had a handful of shows this year, so to have landed a slot at arguably the best UK metal festival at such an early stage is so huge for us.
The Razor's Edge: For people who've never seen you live, what can they expect at Bloodstock?
Dave: A blistering assault of thrash/death metal with crushing riffs, soaring twin guitar melodies, relentless thundering rhythm and brutal vocals all delivered with so much energy from all of us it will be guaranteed to make you move!
The Razor's Edge: What day are you performing?
Dave: Friday
The Razor's Edge: What other bands are you looking forward to watching at Bloodstock this year?
Dave: So many but to name a few Hellfekted, Red Method, Exodus, Testament, Sleep Token, GWAR. We are also looking forward to finding more new favourites at the New Blood all weekend!
The Razor's Edge: Playing the New Blood Stage is just the first stepping stone in a bands journey. What's next in your plans for world domination?
Dave: We're currently recording a couple more singles to be followed by an E.P. All of which we hope to have out as soon as we can. We have more new material to be added to the live set too which we will be getting out in front as as many audiences as possible. This is just the beginning for us, we are Mechanized, we are mobile and we are coming for you!