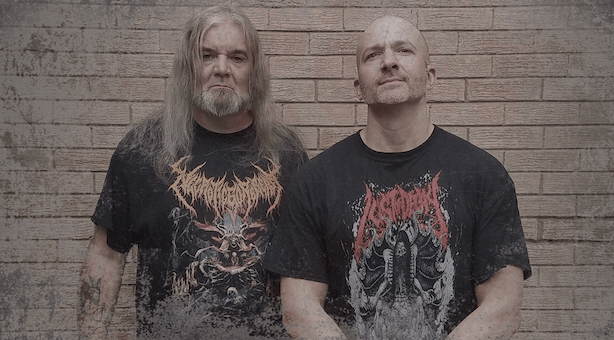 Album Review: Shuriken Cadaveric Entwinement - Constructing The Cataclysm
Reviewed by Daniel Phipps
Shuriken Cadaveric Entwinement have teamed up with the mighty Comatose Music for the release of the bands third full length album Constructing The Cataclysm. The band which is made up of 2 grizzled veterans of the death metal scene both being members of North Carolina legends Lust of Decay, Shuriken Cadaveric Entwinement combine their ferocious death metal with tales of complex Japanese history and stories of the Samurai.
The first thing that instantly struck me with Constructing The Cataclysm is the razor sharp rhythm playing. Jordan Varela who handles all instruments on the record excelled in composing a series of tracks which tick the brutal box whilst maintaining a very classic death metal sound, think Deicide matching up with early Deeds of Flesh and obviously Lust of Decay's sound is also quite audible on this album, but this is just a small sample of what Constructing The Cataclysm offers. The extremely tight guitar playing of Varela is matched with his rapid drumming with his kicks effortlessly burning their mark into your ears and they rip through each track. The Deicide comparison also carries over to the vocal performance as frontman Jay Barnes bring a style very similar to that of Glen Benton as the powerful guttural tones of his vocals rip through the verses which are then mixed with layered high and low vocals during sections "Awaiting The Infinity Of Oblivion" and "Insidious Spiritual Incarceration" offer the best displays of this with the later offering the most furious all out assault musically on the album.
As stated above Shuriken Cadaveric Entwinement also have that more brutal formula within their sound, it's very keeping with the earlier brutal death metal style, it's not overly flashy but packed with power, and that power coming from more the guitar playing opposed to continuous blast beats. This might make this record more palatable to death metal fans who don't explore too much on the brutal side of things but enjoy your more popular bands within the genre and the track composition on this record easily would hold its own with anyone. Now I will say that there is a negative on the album and that is it's title track which ends the album. I don't know why but it does not fill me with the same sense of power and fullness as the other 7 offerings, it seems messy in comparison but in all honesty it's a minor issue as the rest of Constructing The Cataclysm is straight up vicious.
Constructing The Cataclysm is a well rounded piece of brutal death metal. It's savage, relentless and offers great energy that all death metal fans should find something to enjoy.