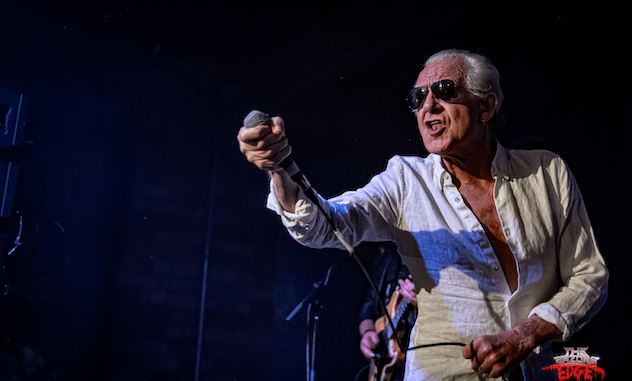 Live Review: Graham Bonnet - KK's Steel Mill, Wolverhampton
28th July 2022
Support: Beth Blade and the Beautiful Disasters
Words & Photos: Tim Finch
Graham Bonnet is one of the most revered vocalist is rock, who's storied career includes stints in the Michael Schenker Group and Alcatrazz, but most famously he replaced Ronnie James Dio at the helm of Ritchie Blackmores Rainbow. Of course during his time in Rainbow he sang on the Down To Earth album and featured on true classics 'Since You've Been Gone' and 'All Night Long'.
Tonight he starts his tour of the U.K. with the Graham Bonnet Band at the legendary KK's Steel Mill, show that is billed as "Playing Down To Earth and all the hits".
Opening act are the rock powerhouse that is Beth Blade and the Beautiful Disasters. Fresh off the release of latest album 'Mythos, Confession, Tragedy & Love', the Cardiff based four piece lay waste to the Lounge Room at KK's early doors with a fiery brand of raging riffs and strong vocals. Beth commands the stage throwing her voice through the crowd and drawing them in. With forty five minutes to play with they make the most of it, wall to wall rock and fucking roll, closing out with a tribute to Lemmy in 'Jack and Coke'.
With the venue now full and the atmosphere building Graham Bonnet's band take to the stage including his long time bassist and partner Beth-Ami Heavenstone and the exceedingly talented guitarist Conrado Pestinato. As Graham appears the roar from the crowd goes up, there is no doubting who everyone is here to see.
Kicking off with 'Eyes of the World' we are straight into Rainbow's 'Down To Earth' album, but the eagle eyed amongst you will notice not in the album's running order. The start of the set is dominated by the aforementioned album as Graham sings his way through 'All Night Long', 'Love's No Friend',  'Makin' Love' and 'Since You've Been Gone'. Graham's voice may not be what it once was, let's be honest who's voice still is forty plus years later, but the crowd interaction more than makes up for those missing high notes.
The set is littered with other classics from the great mans career; the Michael Schenker Group tunes 'Desert Song' and 'Assault Attack' plus Alcatrazz's 'Jet to Jet'. Fans hoping for 'Down To Earth' in its entirety – as the tour poster had loosely suggested – will have noticed two minor omissions, but the evening is rounded out by 'Lost In Hollywood' to close a great set by a true legend.