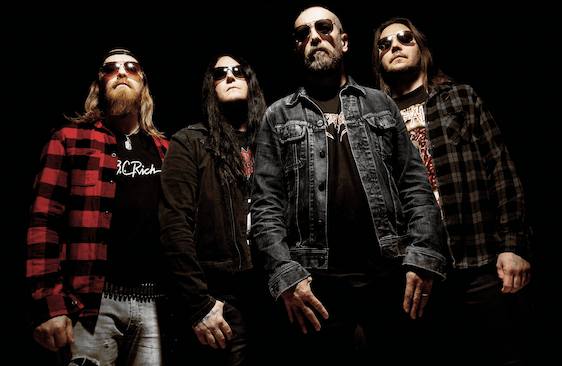 Album Review: Bloodbath - Survival Of The Sickest
Reviewed by Paul Hutchings
If you want an example of how quickly time flies, then consider that Nick Holmes, or Old Nick as he's dubbed here, has now been vocalist of death metal supergroup Bloodbath for a decade. More gigs have passed in recent years than they ever delivered in the previous decades and on album number six, Bloodbath are as ferocious as they have ever been.
Eleven tracks rip out of the speakers, and Bloodbath, bolstered by the arrival of new guitarist Tomas 'Plytet' Åkvik of LIK no less, present a savage and relentless barrage that leans more heavily towards the older death metal model than the blacker side of the genre that the band presented in 2018's 'The Arrow of Satan is Drawn.'
The song titles drip and ooze with gore. 'Malignant Maggot Therapy,' 'Tales of Melting Flesh' and 'Putrefying Corpse' all deliver as expected, more Morbid Angel, Death, and Obituary this time round. Add in cameos from members of the metal underground (Barney Greenway (Napalm Death), Luc Lemay (Gorguts) and Marc Grewe (Morgoth) to name three) and you have all the ingredients for an aural battering.
Jonas Renkse and Anders Nyström (both of Katatonia), alongside ex-Opeth drummer Marin Zxenrot, Holmes and Åkvik deliver on all fronts. From the sonically explosive opener 'Zombie Inferno' through to the darkness of closing track 'No God Before Me,' the savagery is unrelenting. Thick riffs, searing lead breaks and blistering drumming patterns all delivered at breakneck pace, slowing only to allow time for the neck to recover before the next onslaught cascades in. Bloodbath have captured a viciousness that is often absent in death metal today.
When they do slow it down a tad, the crushing intensity is bruising. The sheer weight of the riffs on 'To Die' threaten to overwhelm and suffocate, with OId Nick delivering a career best. His roars are frightening, such is the intensity that is invested.
By the time you arrive at 'No God Before Me' you should be wilting under the barrage that you have absorbed. Penultimate track 'Environcide' batters in primal fashion, riffs weaving around Old Nick like snakes who have been stirred. It's almost cinematic in its drama, towering imperiously above the other songs in a raging maelstrom that doesn't give one inch. It's astonishing how powerfully punishing this band can be. The darkness of the final track and its huge boot print stomp which segues into a challenging tombstone of doom, rounds off another album of quality in the extreme.
Having practised their craft since 1998, Renkse and Nystrom together with their peers should be rightly happy with this album. It's a fantastic record and retains some of the early energy that made Bloodbath such a proposition. Grab a copy, put on the cans, and prepare for battle!