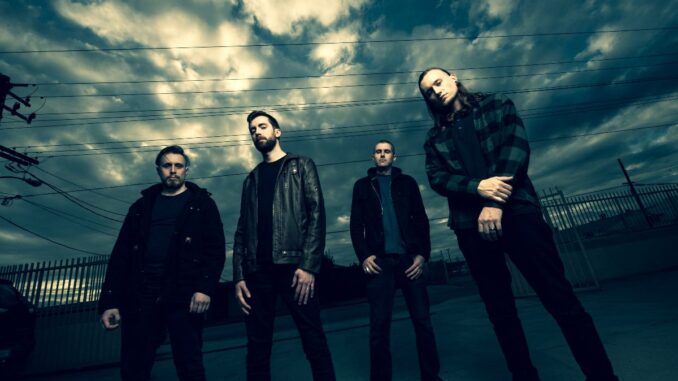 Album Review: Fallujah - Empyrean
Reviewed by Paul Hutchings
15 years since they first formed in San Francisco, tech death metallers Fallujah return post pandemic with their finest album to date. Since the release of 2019's 'Undying Light,' there has been changes in the band line-up with vocalist Antonio Palermo, bassist Rob Morey and guitarist Nico Santora all departing. Fallujah brought in the vocal brutality of Kyle Schaeffer and the bass prowess of Evan Brewer, the Nashville native a veteran of the tech death metal scene via Animosity, Reflux, and his own solo work.
For many, technical death metal is a step too far. If you can scratch beneath the surface, then the sheer complexity of the musicianship places many of these musicians at the high end of the quality ladder. Certainly, the guitar work on 'Empyrean,' courtesy of founder member Scott Carstairs is at times simply stunning.
'Empyrean' kicks in at 52 minutes, which means you must devote some time to it to really absorb and appreciate. The early releases 'Radiant Ascension', 'Embrace Oblivion' and recent third single 'Soulbreaker' prompted plenty of interest on the band's socials and whet the appetite for what is a very tasty record.
Opening in brutal style with 'The Bitter Taste of Clarity,' Fallujah show that they mean business with a salvo of punishing blast beats, Weaver's bass raging below the furious riffs and Schaeffer's guttural delivery. It's frenetic as you'd expect, with the entire band locked in tightly and Schaeffer quickly stamping his own feel to the band's sound.
There is a decent variety of duration in the tracks. The bludgeoning 'Eden's Lament' shows a brief change of pace, switching intensity for seconds allowing clean vocals opportunity before plunging back into the swirling maelstrom of frantic riffing. There's melody lurking underneath the tracks though. 'Mindless Omnipotent Master' is a good demonstration of this, with the spiky bass and blistering speed rampant, but with blasts of melody that provide a welcome contrast.
As well as Schaeffer, Empyrean features several guest vocalists on seven of the ten tracks. Tori Letzler and Katie Thomson make welcome returns after their guest slots in 2016's 'Dreamless.' Thompson provides the perfect foil to Schaeffer on 'Embrace Oblivion,' whilst Letzler's participation on the steamroller closer Architects matches Schaeffer for power and direct aggression.
Penultimate song 'Celestial Resonance' is one of the standout tracks on the album. A seven-minute instrumental, it's sonically expansive, and sees Brewer taking his playing to another level. This is a track where it should be an offence not to listen to it through quality headphones, for there is much to absorb, not least the breaks that Brewer unleashes.
Fallujah is improving with every album. I'd say 'Empyrean' is probably their best yet. Having escaped through Covid and a plethora of line-up changes, now is the time for the band to elevate themselves even further up the hierarchy. It's a stunner of a release, perfectly crafted and with some astonishing technical displays. One to absorb, digest, and then go again.