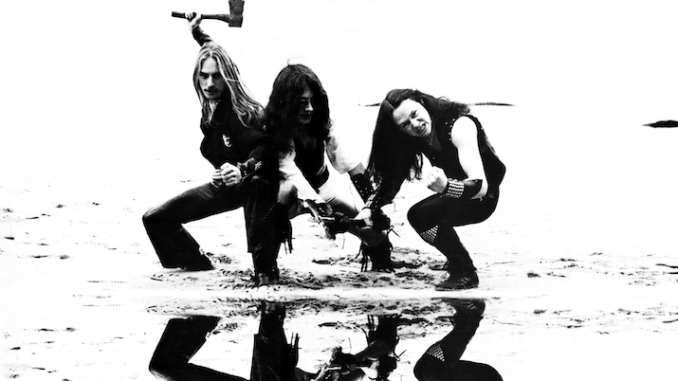 Boxset Review: Venom - In Nomine Satanas
Reviewed by Tim Finch
Venom are one of the bands that can be truly described as genre defining. From their early origins in 1979 they turning the fledgling "heavy metal" genre on its head. What Motorhead, Judas Priest and Black Sabbath were doing was ground breaking for some, what Venom went on to do was truly earth shattering. Defining the extreme music that we know and love today.
Their first four albums, 'Welcome To Hell', 'Black Metal', 'At War With Satan' and 'Possessed' are unique pieces of work, ripping up the playbook and writing their own. The classic line up of Cronos, Mantas and Abaddon took the world by storm and in doing so influenced some of the biggest bands we know today… Metallica, Slayer, Behemoth, Celtic Frost, Mayhem to name just a few.
Back in 2019 the band issued a unique vinyl box set to celebrate their early works. 'In Nomine Satanas' took those first four albums and added extras including live album 'Eine Kleine Nachtmusik' and 'Sons of Satan' a collection of demos, deep cuts and unique previously unreleased tracks. All in all it was the ultimate package.
Now, just after the 40th anniversary of 'Black Metal's release, the band have repackaged this boxset. Available on CD for the first time, this unique collection is available again for all their fans to enjoy.
Listening through the set in order you can hear their sound develop. From the 'Welcome To Hell' which built upon the sound of Motorhead but turned it darker, through 'Black Metal' which really saw the band take a turn, the harrowing sounds that would define the genre it went on to inspire
The boxset itself, beautifully packaged, is worth every penny. Whether a fan of the band or not, this is a release every heavy metal fan should own. A true piece of history.