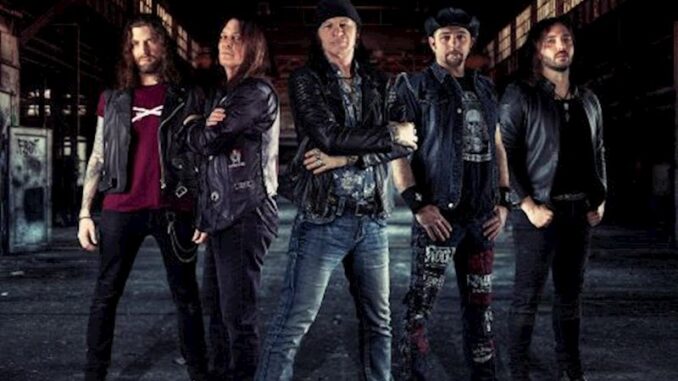 Album Review: Iron Allies - Blood In Blood Out
Reviewed by Neil Bolton
Fancy an earful of traditional metal? If the answer to that query is YES then you are in the right place.
Herman Frank and David Reece are both former members of German metal legends Accept; their tenure in the band may have been at separate times but this shared history is compounded with a love for metal, rock, and blues, and ensures for a powerful listen. The talents of both men also play a major part in the sound and feel of this 'Iron Allies' record.
The first number on this album 'Full of Surprises' is as soaked in metal as you would hope giving the pedigree of its members. A thunderous beginning leads to a metal riff and fast clean powerful vocals delivered by Reece. The chorus is a joyous sing along event joined soon with rip roaring guitar solos that burn and rip impressively.
The title track carries on down the same traditional route, but a little slower this time. It is still very much in the same correct lane, with sturdy vocals bringing fists to be raised and horns to be thrown. The guitar work is exemplary throughout the album. Not only are the soaring solos a massive draw, the riffing is catchy and many a guitar lick is peppered thought this release. It never feels as if their talents are being prised in just for the sake of it; it always works well for the song and the finished product as a whole. The aforementioned duo are flanked with impressive talant, Don Van Stavern on bass, Francesco Jovino on drums, and Micheal Pesin on guitar, all have stellar C.V's and never sound over shadowed by Reece and Franks's metal talents.
If the heritage of these gentlemen, including the band they have assembled appeals to you, or the thought of rocking out with top level traditional metal has ever floated your vessel then you need this release in your life.