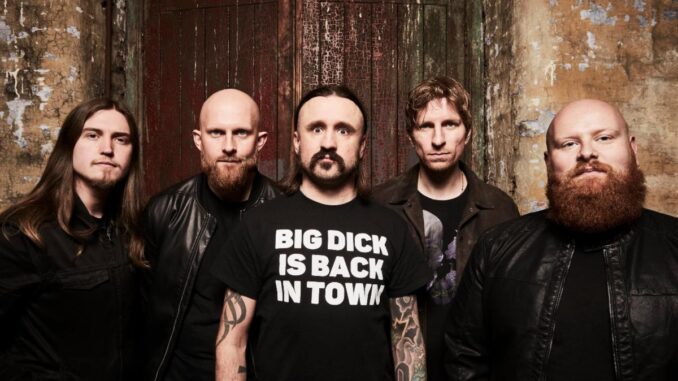 Album Review: Massive Wagons - Triggered!
Reviewed by Tim Finch
Massive Wagons have been on an upward trajectory ever since they burst on the scene back in 2009. Having signed to Earache Records back in 2017 their momentum has grown and grown to the point of them being on regular rotation on Planet Rock and leaving them on the verge of being a household name.
The band have released an album every two years since their 2012 debut 'Fire it Up' and following on from 2020's chart topping 'House of Noise' they are back in 2022 with what will no doubt be a huge album, 'Triggered!'.
The record opens with the lead single 'Fuck The Haters', if you have listened to Planet Rock over the past few months you will be very familiar with this one. An anthem supporting those bullied in any way, shape or form. 'Fuck The Haters' is a classic rock anthem with a hard hitting message for the hateful in society.
That theme is carried throughout the album, the cover itself a man's head covered in tattoos and wearing pink eyeliner. The concept designed by the band to trigger those haters once more and highlights a split society, half very accepting whilst half stuck in the 1800's and their almost backwards ways of thinking.
Throughout the album the band continue with the formula that has driven them to success over the past decade. But they have updated their sound, it has a slightly more modern rock edge whilst keeping them entrenched in the classic rock community. 'A.S.S.H.O.L.E.' starts with a Darkness-esq riff and leads into a rage filled romp of a song. Some spoken word interludes from Baz switching up the pace on this ditty, keeping the listener engaged and most of all entertained.
Title track 'Triggered' kicks off with a blues fuelled guitar intro and covers topics from the covid vaccine through to the black lives matters movement and makes a mockery of those fools triggered by such topics. A wonderfully funny song if you let yourself get swept away by the lyrics, whilst musically keeping you rocking along.
The album is a statement of the current climate whilst seeing the band grow as individuals and as an entity in their song writing and performance. Whether the lyrical content stands the test of time is a question to be answered in the future. It is very much on point for 2022 and if nothing else will be a historical reference we can refer back to in twenty years time… "was the world really in such a state back in 2022?", well sadly yes it is!