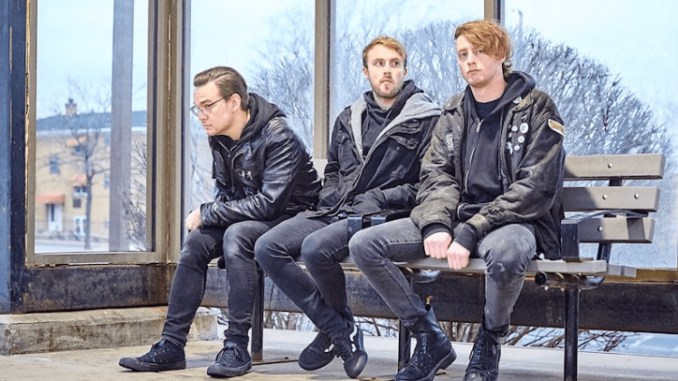 Album Review: Lower Automation – Strobe Light Shadow Play
Reviewed by Dan Barnes
Chicago's experimental noise trio return with another new release, hot on the tails of 2021's acclaimed self-titled debut. At a mite over twenty-two minutes you could be excused for thinking this would be a relatively easy listen, but think again.
For Lower Automation's latest is a dozen tracks of dissonant noise, designed to unsettle and unnerve in equal measure. From the opening bars of the first track, Jesus Loves Me and My Guns, you are confronted by a series of seemingly unconnected sounds. Drums chop and bass pummels as strangulated guitars howl for mercy. Information Entrepreneurs and Their Lipsynching Choirs comes across like an At the Drive-In reunion before spiralling guitars ascend this earthly plane of existence; church bells and a Marilyn Manson style vocal line introduce Genuflect; The 99 opens with a staccato free-form jazz exploration; and unexpectedly fat chugs sketch out the beginning of Acolytic.
Yet it seems as though these are merely moments of clarity in an otherwise increasingly insane journey through Strobe Light Shadow Play as each descends into its own individual hellscape of disparate sounds, screaming to be heard.
Comparator, Guzzler and Heel Marks all revel in the experimental aspects of the record, while End Scene, the album's coda, comes with the strange feeling of musicality and the merest hint of an earworm. Whether this is due to the expose to the previous eleven tracks or the brain desperately trying to make sense of what it's hearing, is hard to say. The acoustic guitar and wavering vocals lending it an air of familiarity at least.
The band themselves consider this to be their most experimental and noisiest release yet with the prevailing theme of complicated pasts events that cannot be let go, all of which is represented in the music.
The title-track represents everything implied across the album, beginning with some nineties pop-punk, jazz-infused noise and moving on to great walls of sound crashing into each other but only occasionally forming something recognisable as tuneful.
I think the secret to the enjoyment of Strobe Light Shadow Play is to not look for meaning or clarity from the outset, but to allow the sound to envelop you and discover your own meaning from within its many pieces.