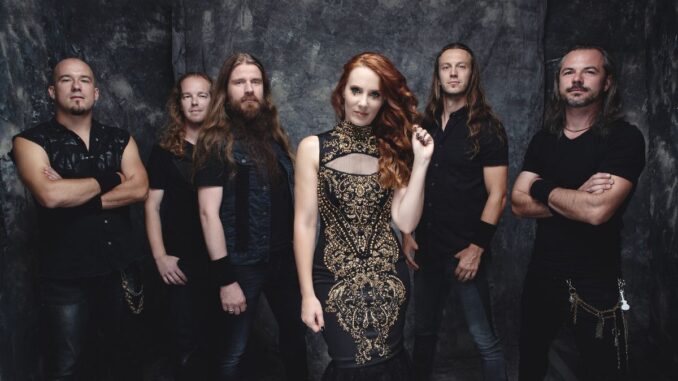 EP Review: Epica - The Alchemy Project
Reviewed by Paul Hutchings
2021 saw Dutch outfit Epica release their Omega album. It was an epic piece of work (and you can read our review here). They followed this with a release of their live stream event which was released around a year ago. 2022 sees the band celebrating their 20th anniversary. With eight albums under their belt, one can certainly allow them an amount of self-indulgence with their latest EP, The Alchemy Project.
Comprising seven songs which have been co-written and performed by a range of artists, this EP sees the band divert from their usual symphonic pathway to embrace the opportunities these collaborations provide. But there is also a serious message of cooperation that links the songs. Founder member Mark Jansen explains. "The idea behind this concept is cooperation. In the world of today with all its chaos and challenges we as humanity will need to work together to solve and rise above the problems to create a new world where we can all shine again. We are all connected, and when a part of humanity is suffering, we are all suffering from it".
So, seven songs, all different in shape and style, but all crafted with the usual polish and guile that one would expect from this highly professional outfit. The opening track 'The Great Tribulation' sees Italians Fleshgod Apocalypse bring their unique style to a fast paced and dramatic five-minute song. Singer Simone Simons works her operatic vocals to great effect in a sparring effort with the Italian symphonic death metallers. It's followed by Wake the World which features the keyboard talents of Uriah Heep's Phil Lanzon who gives the song his own stamp. Simons duets with Kamelot's Tommy Karevik on a track that has a classic rock flavour circa late seventies era Rainbow and of course, Heep. Karevik brings his own qualities to a song that sparkles.
The craziness of Norway's Shining mixed with the fluency of Epica is front and centre on 'The Final Lullaby'. It evolves into a bit of a mash up with singalong sections, bruising head down rocking segments and an overall vibe which is as infectious as it is joyous. "I've been a big fan of Shining since the first time I heard them," adds bassist Rob van der. "Our intention with 'The Final Lullaby' was to make a mash-up between Epica and Shining so we thought it would be a good idea if I would come up with some riffs that would be typical Shining and they would do the complete opposite."
The sisters take central focus on 'Sirens – of Blood and Water' with Mykur and Charlotte Wessels (ex-Delain) whilst the exceptional talents of Soilwork's Bjorn 'Speed' Strid and Frank Schiphorst (MaYaN) combine on the blisteringly intense 'Death is Not the End' which simply bursts with aggression and power and some stellar playing from the whole band. But all bets are off with the penultimate track. Human Devastation sees the bulldozing combination of Henri Sattler (God Dethroned) and Sven de Caluwé (Aborted) turn Epica from symphonic to a seething, writhing mass of explosive death metal, proving that Jansen, fellow guitarist Isaac Delahaye, Van Der Loo and drummer Ariën Van Weesenbeek can punch with the best in a sub-three minute eruption of extremeness. It's punishing and completely unexpected.
After that, a calmer composition is necessary. What Epica present is the epic 'The Miner', a seven-minute song that sees Asim Searah (Damnation Plan), Niilo Sevänen (Insomnium) and Roel van Helden (Powerwolf) bring their considerable talent to a stunning piece that concludes the EP in fine style.
Throughout their career, Epica have managed to keep fans guessing, changing momentum and tempo whilst retaining their core roots. The Alchemy Project is another example of how the chameleon continues to change. It's an essential release, and one that should be of interest to a much wider audience than perhaps otherwise might be expected.