Album Review: Onslaught - Generation Antichrist
Reviewed by Jon Wigg
My relationship with the band Onslaught has been going for thirty five years now. Thirty five bloody, heavy, thrash-laden years that, based on this offering, will be added to. And you can bring it on!
1986's 'The Force' is probably my favourite UK thrash album. There have been a few that have come close – Acid Reign, Sabbat, Toranaga, Xentrix and Evile, but 'The Force' remains the gold standard for me. After the musically excellent 'In Search of Sanity' which lacked the powerful vocals of Sy Keeler, a gap of almost twenty years and three killer albums followed. These three were all voiced by Keeler whose voice changed over the years and the added menace fitted in so well to the brutal thrash style – '66 Fuckin' 6' anyone? But Sy is gone (again) and replaced with style by Bull-Riff Stampede's Dave Garnett. The vocals have the spirit of Keeler but definitely have Garnett's stamp on them in a fine performance. Indeed the entire band absolutely nails it here and there isn't a bad song.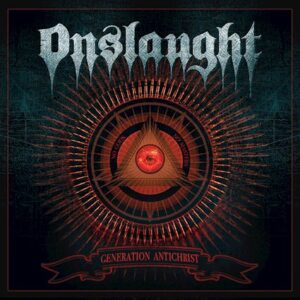 Opener 'Rise to Power' starts with a radio being tuned before a slow, imposing riff kicks in. A guttural growl introduces the album and the track acts as an intro to all out banger 'Strike Fast Strike Hard'. These songs have all the hallmarks of live openers – with a chant-along chorus, blistering pace and slower breakdown. I can see the pits opening up as I type. Solo and rhythm work from both legend Nige Rockett and Wayne Dorman is fantastic from the start.
Can they keep it up? You bet! 'Bow Down To The Clowns' starts with a riff to die for, driven by the bass of Jeff Williams and drums of James Perry. A slower song this – call it mid-paced - but it absolutely blasts the listener into submission and we're only 3 tracks in. This also includes some of my favourite solo work.
Title track 'Generation Antichrist' kicks off with an alternative preacher before the best riff on the album kicks in – fast, brutal and devastating. This is definitely a highlight in an album full of them. 'All Seeing Eye' is more of a traditional mid-paced thrasher with more killer riffs and 'Addicted To The Smell of Death' ups the pace again with some amazing rising and falling riffs. 'Empires Fall' starts with a South of Heaven Slayer type opening and the pace remains slower here while the heaviness ramps up to the max. 'Religiousuicide' is a high tempo blunt instrument in comparison which really allows Garnett to show what he can do.
Closer 'A Perfect Day To Die' might be my favourite track on this album. A great mix of tempos, chants and solos.
Since their return in 2007 with 'Killing Peace', Onslaught have honed their brand of brutal, modern, uncompromising thrash metal. They, along with the other UK thrash bands of the mid to late 80's, suffered at the hands of the Americans. This is my album of the year for 2020 so far and if the US thrash bands weren't on notice after last year's offerings from Xentrix (Bury The Pain) and Acid Reign (The Age of Entitlement), they should be now.
Th tracks range from mid-paced stompers to blisteringly fast ragers and this change of tempo lifts the album. The song writing is immense and all 5 members are on top form throughout.
Stunning thrash metal to make 2020 seem a bit better.
Onslaught release 'Generation Antichrist' on August 7th via AFM Records