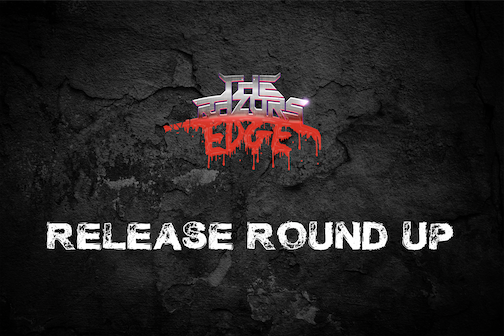 Release Round Up - November 4th, 2022 
Every Friday there is a tidal wave of new music released unto the world. Whilst we try to cover as much as possible here at The Razor's Edge, it's not always possible to review everything. So each week on a Friday we'll round up some of the best new music available, some we've reviewed, some we haven't, but all worth checking out!
Theres a lot of new heavy music hitting the airwaves this week, everything from black metal, death metal, gothic metal, Stoner rock, doom, thrash metal and even some of your traditional heavy fuckin' metal!
Here's what we think you should check out today!
Devin Townsend returns with the highly anticipated 'Lightwork' on Inside Out Music.
"Devin continues to find ways to craft his releases so that they are able to feel completely fresh"
Read our full review here.
The Pretty Reckless reimagine some classic songs and deep cuts on 'Other Worlds', released this week via Century Media.
"an album that highlights each members individual talents perfectly yet to the forefront are Momsen's simply mesmerising vocal abilities."
Read our full review here.
One of the most exciting bands to appear from the modern metal era, The Offering release 'Seeing The Elephant' on Century Media this week.
"an album fraught with despair at the actions of humanity but also coping with one of the most human emotions possible - grief."
Read our full review here.
On Halloween More Death And Horror dropped an eerie album this Halloween in 'Sounds of Tyrants'.
"it's all a bit mad, but in a genius way."
Read our full review
here
Spear of Destiny release fifteenth studio album 'Ghost Population' via Eastersnow Recording.
"big, bombastic tracks, full and rich and still with plenty to say."
Read our full review here.
Ingested keep their monolithic momentum going with latest release 'Ashes Lie Still' on Metal Blade Records.
"'Ashes Lie Still' contains all the aggression and volatility that you would expect from a death metal record but they have added scope to make the overall experience a lot more epic in sound."
Read our full review here.
Oxford stoner royalty The Grand Mal release 'II" via APF Records.
"fast paced stoner rock vibes, reminiscent of Kyuss in places"
Read our full review here.
Texas rockers Warlung return with their fourth album 'Vultures Paradise' on Heavy Psych Sounds.
"dominated by huge riffs which rarely let up for the entire album."
Read our full review here.
British thrashers Hellfekted drop single 'Death of Iron' this week.
"'Death of Iron' is a slower, more head banging inducing song"
Read our full review here.
One man wrecking machine Foul Body Autopsy closes the book on his EP series with 'Shadows Without Light: Part 3'.
"The perfect end to a remarkable chapter!"
Read our full review here.
And thats just the tip of the iceberg! Other releases today we think you should check out include...
Rock / Hard Rock / Classic Rock
96 Bitter Beings - Synergy (Nuclear Blast)
Black Mirrors - Tomorrow Will Be Without us (Napalm Records)
Brkn Love - Black Box (Spinefarm Records)
False Figure - Castigations (Transylvanian Recordings)
Hellsingland Underground - Endless Optomism (Wild Kingdom)
Magnolia Park - Baku's Revenge [DELUXE] (Epitaph)
Mammock - Rust (Venerate industries)
Sorrow and Spire - Sorrow and Spire [EP] (Crusader Records)
The Commoners - Find A Better Way (Gypsy Soul Records)
The Ohio City Singers - Love and Hope [Christmas Album] (Hoboville)
The Pretty Reckless - Other Worlds (Century Media)
Tough On Fridays - The Encore You Didn't Ask For (Golden Robot Records)
Tuk Smith & The Restless Hearts - Ballad of a Misspent Youth (MRG)
Heavy Metal
After Smoke Clears - Soap Bath [Single] (Self-released)
Apollo's Army - End of the Road (Self-released)
Celtic Legacy - Redux (Eternal Legacy Records)
Deep Town Diva - Royal Flush (Self-released)
Höst - Nightmares and Goals (Self-released)
Iron Kingdom - The Blood of Creation (Self-released)
Nekomata - ...And Then, The Abusement Park Left Town (Revalve Records)
Oxytoxin - Don't Lose Your Head (Self-released)
Strider - Into Glory Stride (Lion Music)
Time To Kill - SBAH (Self-released)
We Are to Blame - Duality I (Self-released)
Whiteabbey - Volume Two (Self-released)
Wyrmwoods - No Sun Nor Moon (Inverse Records)
Death Metal / Grindcore
9 Dead - 9 Dead (Comatose Music)
Aurora Borealis - Prophecy is th Mold in which History is Poured (Hammerheart Records)
Casket Grinder - Sepulchral Trip (Awakening Records)
Chestcrush - Apechtheia [EP] (Self-released)
Denial of Death - A Failed Exorcism (Self-released)
Epidermal Veil - Psalms of the Flayed (Self-released)
Foul Body Autopsy - Shadow Without Light: Part 3 [EP] (Self-released)
Gorgatron - Agony Reborn (Blood Blast Distribution)
Houkago Grind Time - Houkago Grind Time 2: The Second Raid (Outrageous Weeb Power Productions)
Impugner - Advent of the Wretched (Sentient Ruin)
Iron Flesh - Limb After Limb (War Anthem Records)
Lokurah - Distorted Truth (Crimson Productions)
Munitions - Blackwind [EP] (Self-released)
Strychnos - A Mother's Cure (Dark Descent Records)
Suborbital - Planetary Disruption (War Anthem Records)
Tiwanaku - Earth Base One (Avantgarde Music)
Vile Species - Against the Values of Civilization (Chaos & Hell Productions)
Black Metal
Black Anvil - Regenesis (Season of Mist)
Gorycz - Kamienie (Pagan Records)
Iffernet - Silences (Vendetta Records)
Mist of Misery - Severance (Non Serviam Records)
Wolfcross - From the North (Self-released)
Yfel 1710 - Zlatują się Ćmy (Pagan Records)
Stoner Rock / Doom / Sludge / Psych
Burning Sister - Mile High Downer Rock (Self-released)
Echolot - Curatio (Sixteentimes Music)
Insonika - Pithos (Self-released)
Longheads - Mars Doesn't Feel Like Home Anymore (Self-released)
Lucifer Jones - Awful (Rotten Xore Records)
Nothing Is Real - The End is Near (Self-released)
The Grand Mal - III (APF Records)
White Mare - Isle of Bliss (Negre planY, Symbol Of Domination)
Progressive Rock / Metal
Cydemind - The Descent (Self-released)
Dark Beauty - Between Sixes and Sevens (Self-released)
Edge of Haze - The Convor of Ruin (Darkening Tone Records)
Evraak - Evraak I (WormholeDeath Records)
Osyron - Momentous (Self-released)
Silver Nightmares - Apocalypsis (Self-released)
The Sunrise - Rising Loop (WormholeDeath Records)
Vitskär Süden - The Faceless King (Ripple Music)
Thrash Metal
Apollolyptic - Through Mud [EP] (Self-released)
Demona - Dirty Speed Metal [BOXSET] (Morbid and Miserable Records)
Evillution - Elements of Genocide (Firecum Records)
Exordium Mors - As Legends Fade and Gods Die (Praetorian Sword Records)
Hellfekted - Death of Iron [Single] (Self-released)
Ninth Realm - A Fate Unbroken (Mercenary Press)
Sarcator - Alkahest (Black Lion Records)
Stalker - Cranking Evil [12' Double A-Side] (Napalm Records)
Xentrix - Seven Words (Listenable Records)
Metalcore
Avoid - Cult Mentality (Thriller Records)
Chaoseum - The Third Eye (Self-released)
ChuggaBoom - Death Pledge (Dead Serious Recordings)
Dayseeker - Dark Sun (Spinefarm Records)
Eleven Years Tyranny - False Hope [Single] (Self-released)
And the rest...
Born Without Bones - Dancer (Pure Noise Records) [Punk]
Dragonhammer - Second Life (My Kingdom Music) [Power Metal]
EF - We Salute You, You and You! (pelagic Records) [Post-Rock]
Indignu - Adeus (Dunk! Records) [Post-Rock]
Middle-Aged Queers - Shout At The Hero (Say-10 Records) [Queercore]
Mord'a'stigmata - Like Ants and Snakes (Pagan Records) [Post-Black Metal]
Ploho - Когда душа спит (Artoffact) [Post-Punk]
R.A.M.B.O. - Defy Extinction (Relapse Records) [Punk]
Sunliner - Sunliner (Lockjaw Records) [Indie/Punk]
Sweet Cobra - Threes (Hawthorne Street Records / Pax Aeternum) [Post-Rock]
Youth Fountain - Keepsakes & Reminders [DELUXE EDITION] (Pure Noise Records) [Emo/Pop-Punk]