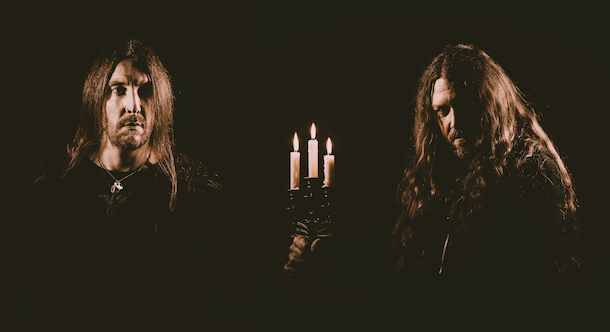 Album Review: Imperium Dekadenz - Into Sorrow Evermore
Reviewed by Dan Barnes
Hailing from Germany's Black Forest, a place as wild and barren as anything Norway has to offer, Black Metal duo, Imperium Dekadenz, unleash album number eight, four years on from When We Are Forgotten.
Into Sorrow Evermore is a sumptuous musical banquet in which the listener is served up eight courses of the multiple flavours of the genre. Beginning with the title-track's ambient opening, Imperium Dekadenz make a clear statement that this will be a journey through cosmic realms. The early swells are akin to hearing the universe singing back to you, before the buzz-saw guitar enters, creating swathes of epic Black Metal.
The use of repetitive riffs and vocals positioned low in the mix, render the sound adjacent to Wolves in the Throne Room; the gloomy atmospheres conjured by juxtaposing blitzkrieg delivery with softer, more melodic moments, gives the entire album the sense of breathing and of organically growing.
Awakened Beyond Dreams maintains the epic, cinematic scope, using slow atmospherics to establish an all-encompassing grandeur; the sumptuous Elysian Fields opens with a harsh, mid-paced guitar, weaving infectious melodies, invoking images of vast, windswept planes and the dreams of the titular fields. Closer, Memories… a Raging River ends the album with a progression from high energy to a slow, morose, fade out to infinity.
Truth Under Stars takes the epic sound and folds in some of the classic Scandinavian second wave ethos; monosyllabic vocals and filthy tremolo picking brings to mind frozen vistas as it alternates between the hyper-blasts and slower gloomier passages. For the insatiable Hordes there's Forests in Gale, a grim, frostbitten mid-paced track, straight out of the Gorgoroth and Watain playbooks.
On the other extreme, Imperium Dekadenz offer the slow and doom-laden November Monument, a track wrought with emotion and fitting among Into Sorrow Evermore overall aesthetic. The standout track here, in my opinion, is the haunting Aurora. Melancholic piano accompanies trudging drums as aloof guitars combine to create a delicate and morbid melody. Sorrowful vocals utter classical passages and sustained minor progressions resolve in beautiful crescendo after beautiful crescendo.
Some of the most interesting and sprawling Black Metal has been created by two-pieces: think of Inquisition, Limbonic Art and Cobalt, and Imperium Dekadenz's sound is not a million miles removed. The rhythm work of Vespasian creates the foundation for his and Horaz's twin guitar – twin keyboard attack and the latter's twisted vocals.
Into Sorrow Evermore is a rich and rewarding album that is packed full of ideas and is likely to be giving up its secrets slowly and with repeated listening.