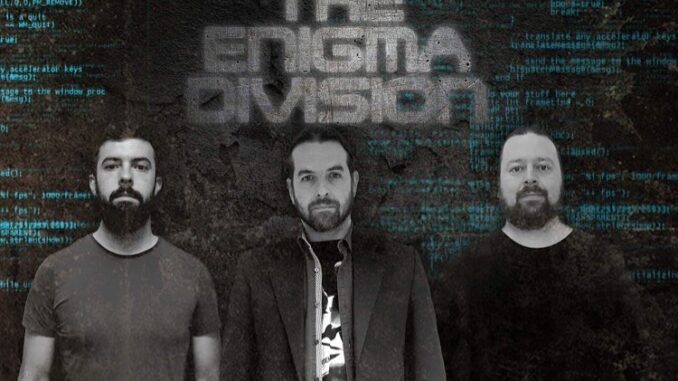 Album Review: The Enigma Division - The Enigma Division
Reviewed by Tim Finch
It's hard to pigeon hole Irish outfit The Enigma Division who are set to release their debut, self-titled album this week. The band, who feature former Xerath member Conor McGouran, meld a multitude of influential styles, including 80's synth wave and modern tech-metal, to produce what they describe as "Progressive Tech-Noir Metal". Indeed Conor states of himself and bandmate Ronan Burns "We both have quite a wide range of musical tastes, and the idea was to create a sound that combined all of those influences, and make it our own."
The album starts with feedback reverberating in our ears, synth sounds add elements of mystery creating an atmosphere akin to a horror movie sound track. '1977' has quite the opening moments before it really gets going with barrages of drums, riffs and synth producing a track that would not have been out of place within "The Upside-Down" of TV phenomenon Stranger Things!
This 70's/80's soundtrack vibe continues through 'The Escapist' but its here where the modern tech-metal twist first takes hold. Layered atop the synth backing come the technical guitar riffs and a wave of blast beats that grab the listeners attention and leave you wanting more.
With the scene now set, the album continues, the keyboards and synth used to perfection, creating new atmospheres with each track, which paint horror/thriller inspired themes in your mind as you listen along. 'Echoes In The Deep' has a spine chilling intro before that technical guitar bombardment begins once more. The drums that kick off 'The Age of Discovery' feel like bursts of gunfire exploding in your ears long before the synth kicks in.
Throughout the album it's the musical juxtaposition of the synths melded with the technical guitars that paint the picture for each song. The band produce masterpieces draped in atmospherics but with bursts of metal mastery that leave you in shock and awe all at once.
Come the summer The Enigmas Division will play the Sophie Lancaster stage at Bloodstock Festival. An off the back of this self-titled album, they are ones not to be missed!