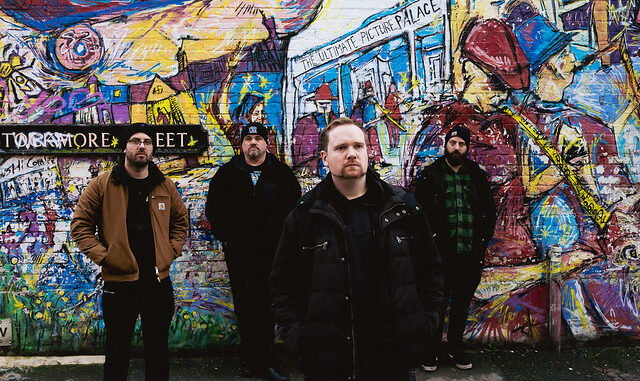 Album Review: Desert Storm - Death Rattle
Reviewed by Matthew Williams
Desert Storm are one of those bands that I've heard about for a number of years, really enjoyed their crushing riffs and heavy grooves, but never got round to seeing live, something that I must correct rapidly, and with the release of their new album 'Death Rattle', they are going to the top of that ever increasing "must see live" list.
For those who've been living in a cave for years, Desert Storm are a progressive metal/stoner rock band from Oxford, who have their own unique style, with a sound that is loud, punishing and unforgiving, but also woven with elation and electrical ecstasy.
And from the opening notes off the first track, 'Master of None', they start to deliver their trademark sound, with a crushing delivery, and pounding drums from Elliot Cole, which is a recurring theme across the new album. Progressive can mean different things to different people, but it's the stoner doom sound that resonates with me most of all, and underpins everything great about this band, and there are riffs aplenty from guitarist Ryan Cole dispersed across these new songs, and from the word go, these songs are BIG!
'Cheyne Stoking' begins softly, before the fuzzy guitar sound kicks in with the rhythmic drumming, to give the song a mysterious, eerie feel to it, then all hell kicks loose and the band explode with a winning formula of a song, and 'Bad Trip' continues the gentle side of their musicianship and showcasing their talents, with a soft opening leading up to a noisy middle section, with harsh gruff vocals from Matt Ryan.
The evolution of this band has in part been helped by touring with the likes of Orange Goblin, Weedeater and The Atomic Bitchwax, and this album has songs which tell individual tales, all bound by common topics, whilst being genre traversing, and musically progressing from the extreme and hard to softer palettes.
With songs such as 'Salt of the Earth', 'Druid's Heath' and the rather sublime 'Insomnia' they are building on their already impressive reputation as an arse kicking band, and with the bass lines from Matthew Bennett driving the songs throughout, the hooks are huge and the riffs are aplenty, this could well be their best work yet.