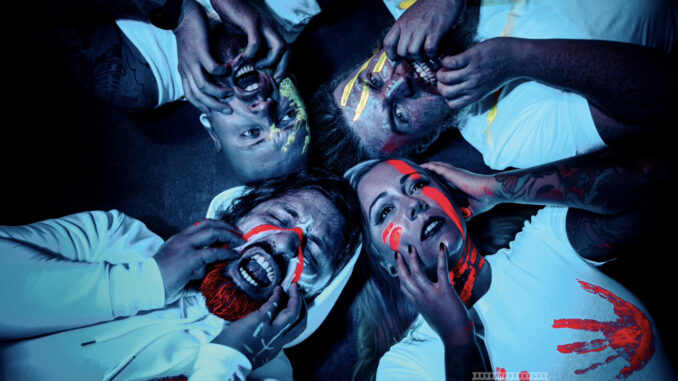 Electronicore Metal Crew Neon Empire Release Single and Announce UK Tour
Hailing from the Irish capital, Neon Empire have been cutting their teeth on stages throughout Ireland with their unique powerhouse live performances since their conception in 2019. 
Never a band that's been easy to label, the four-piece burst onto the Dublin metal scene during the Summer of 2019, attracting attention from punters throughout the country thanks to their love of energetic live shows.
Drawing influence from the likes of Wage War, Architects, Spiritbox,BMTH, and Northlane (to name but a few), Neon Empire have made considerable impact with audiences who have witnessed them atBloodstock Metal 2 The Masses Ireland, and Limerick city's 'Siege Festival' where they have played alongside some of the countries most exciting underground alternative artists. 
Fusing elements of EDM and online gaming culture, with heart-soaring melody, embedded with hefty Metalcore riffs, the band continue to utilise a wide array of electronic elements to deliver an immense, formidable sound, all the while still incorporating the catchy hooks and devastating breakdowns that make the genre so enjoyable in the first place.
Speaking of their new single, 'Control', the band says: 
"Bringing fierce and intense riffs combined with heavy electronics, 'CONTROL' shows Neon Empire's even heavier side this time around wrapping up loose ends of 2022's EP 'REVEL4TIONS'. Originally written with strong inspiration from video game Cyberpunk 2077, CONTROL stands on its own and is sure to make any heavy music lover hit a new personal best in the gym, with its adrenaline infused structure and lyrics. This song tells a tale of war coming to an end with evil having finally been overthrown."
Watch the video here:
Their new single, 'Control' will be released on May 25th ahead of their first run of UK headline dates in Chathem, Kent on May 28th, with NTT, Scars of Sense, and Burn the Crown, followed by the Fiddlers Elbow in Camden, London, with Nethernaut replacing Scars of Sense. Tickets for both shows can be found here.
More info…
Neon Empire released their debut EP, 'Distorted Reality' in 2020, which included the previously released single, 'This Clarity', featuring Dead by April vocalists, Jimmie Strimell and Pontus Hjelm, which has been viewed over 100K times on their YouTube channel. Check out the video here. 
The 'REVEL4TIONS'  EP followed with Neon Empire have given a unique new take on the "Electronicore" genre. Each of the EP's four songs introduces a different member of the "Horsemen", a team of Cyberpunk Freedom Fighters, battling a technocratic corporation in a dystopian future. Listen here.
As always the bands' concept is brought to life with immersive, passionate songwriting that will get you up on your feet.