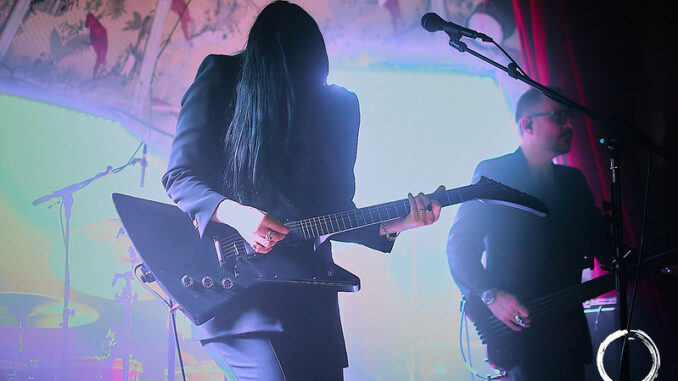 Live Review: A.A. Williams - Deaf Institute, Manchester
22nd May 2023
Support: Zetra
Words: Dan Barnes
Photos: Rich Price Photography
I first encountered the work of singer-songwriter A.A. Williams through Liam McDonald's review of the lockdown covers album, Songs From Isolation in the first issue of Hardbeat magazine. Any artist who can reimagine bands like Smashing Pumpkins, Moody Blues and Radiohead and still make those songs their own is clearly a major talent. But it was Ms Williams' approach to Nick Cave, Nine Inch Nails and Deftones that really whet my appetite and had me seeking out the prior, debut, Forever Blue album.
She also lent her voice to Mono's Breathe and Exit in Darkness from their huge, 2021 live extravaganza, Beyond the Past: Live in London, which I was able to review for these very pages.
Spool forward a couple of years and double-A is on the road promoting her third full-length album, last year's engrossing As the Moon Rests, which saw her gracing the stages of both Download and Arctangent festivals in 2022 and will bring a return to Manchester in a couple of months for Radar Festival.
As if to tease the Deaf Institute gathering, Ms Williams does not drop into her latest record immediately, rather she begins with Wait, from the debut. A sustained chord finally breaks into simple and delicate guitar lines and A.A.'s soft, sorrowful vocal. The stage is awash with smoke, backlit, so that the band is just a series of shadows, shaped on an ethereal plane.
It's an extremely effective tool but my heart goes out to Rich who's having to try to capture this on camera.
The song doesn't so much get savage as built to a satisfying crescendo, climaxing with series of softly picked notes. Evaporate, the first of nine of …Moon's eleven tracks aired tonight, arrives with something of a increase in tempo. The sound is fuller and fatter, the chugging guitar leading to the inevitable resolution akin to waves crashing at the foot of a vast promontory.
Murmurs is hauntingly melancholic, mixing progressive lines with Gothic vibes; the sparse chords of Love and Pain seem arid and when the track breaks it is as though a deluge has hit and the aching conclusion sees tears mixed with the rain.
Alone in the Deep has something of a soundtrack quality about it; Control takes us right back the start of the self-titled 2019 EP for an emotionally charged journey to the past; and For Nothing has moments when I'm reminded of Portishead through its ambient mid-section.
The whole set is a collision of simply-crafted, delicate acoustic guitar and piano lines intersecting with the crashing and wailing of electric guitars and drums. One moment it's a lullaby and the next it's a raging torrent of bile and torment. All of which is curated by Ms Williams' ethereal and melancholic vocals.
Golden, The Echo and Pristine, all from As the Moon Rests, are built around as the idea of the song growing into its climax. Belong finds us back at the EP and you've only just realised the smoke had cleared a little and the figures on the stage have some sort of definition. But it's when the closing song, As the Moon Rests, begins that the smoke returns, enveloping the auditorium once again in a thick, almost impenetrable, fog.
It's worth asking the question as to the nature of that fog? Has it masked our journey through an ethereal realm, the bewitching voice of our host and the enchanting effect of her compositions beguiling and enchanting our senses?
Quite possibly. Such was the mesmerising experience of spending the evening in Ms Williams' company.