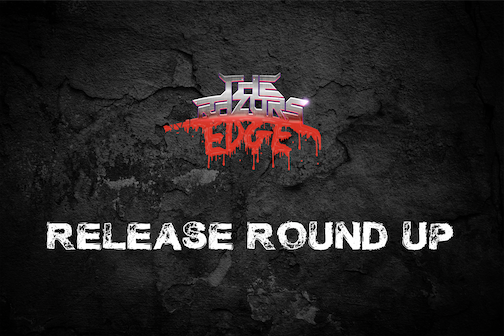 Release Round Up - May 19th, 2023
Every Friday there is a tidal wave of new music released unto the world. Whilst we try to cover as much as possible here at The Razor's Edge, it's not always possible to review everything. So each week on a Friday we'll round up some of the best new music available, some we've reviewed, some we haven't, but all worth checking out!
Theres a lot of new heavy music hitting the airwaves this week, everything from black metal, death metal, gothic metal, Stoner rock, doom, thrash metal and even some of your traditional heavy metal!
Here's what we think you should check out today!
The leaders of the pack when it comes to British thrash metal, Sabbat release boxset 'Mad Gods and Englishmen' this week on Noise Records.
"A sound unmistakeable born in Albion and unashamedly grandiose in its execution."
Read our full review here.
Northern powerhouse Def Leppard team up with The Royal Philharmonic Orchestra to rework their classics on 'Drastic Symphonies'.
"the mix of classical and rock really comes into its own"
Read our full review here.
New Zealander natives Blindfolded and Led to the Woods release 'Rejecting Obliteration' via Prosthetic Records.
"a ruthless yet erratic onslaught."
Read our full review here.
Nattehimmel release 'Mourningstar' on Hammerheart Records this week.
"a gorgeous majestic mix of black, prog and doom which is dark in feel and epic in nature."
Read our full review here.
Frozen Soul prepare to unleash their second album 'Glacial Domination' on Century Media Records.
"an album that excellently propels Frozen Soul's established sound and takes it into new directions."
Read our full review here.
Nashville power-violence duo Thetan release EP 'Dim Times' via Anti-Corporate Music.
"a good mixture of angry, energetic punk and tough feedback driven hardcore."
Read our full review here.
NWOBHM underdogs Millennium release 'The Sign of Evil' on No Remorse Records.
"Everything from the vocals to the riffs to the overall atmosphere this album exudes just screams old school"
Read our full review here.
Alcatrazz 'Take No Prisoners' on their latest album, released via Silver Lining Music.
"Take No Prisoners is a freaking good listening experience."
Read our full review here.
South American death/doom outfit Sporae Autem Yuggoth release 'However It Still Moves' on Personal Records.
"a vast album unfurling long tracks and a death/doom performance that's simply sublime"
Read our full review here.
Canadian barbarians VHS return armed with the sword of power for their latest output 'Quest For The Mighty Riff', released via Wise Blood Records.
"Quite possibly this year's most fun death metal album"
Read our full review here.
Greece's Darklon follow up their 2019 debut with new release 'The Redeemer' on No Remorse Records.
"A well balanced and fast paced album"
Read our full review here.
And thats just the tip of the iceberg! Other releases today we think you should check out include...
Rock / Hard Rock / Classic Rock
Bad//Dreems - Hoo Ha! (Farmer & The Owl/BMG)
Bird's View - Red Light Habbits (Drakkar Entertainment)
Cry of Dawn - Anthropocene (Frontiers Music S.R.L.)
Delivery - Forever Giving Handshakes (Spoilsport Records)
Egor Lappo - Abandoned Corners (Self-released)
House Of Shakira - Xit (Frontiers Music S.R.L.)
Last Rizla - Noise Without Decay (Venerate Industries)
Samantha Fish and Jesse Dayton - Death Wish Blues (Rounder Records)
Servers - The Vertical Plane (Undergroove)
The Ground Shaker - Rogue Asylum (Fastball Music)
The Used - Toxic Positivity (Hassle Records)
Youth Fountain - Keepsakes & Reminders Acoustic [EP] (Pure Noise Records)
Heavy Metal
All Hallow's Evil - Coven (Self-released)
Ghost - Phantomime [EP] (Loma Vista)
Mystic Prophecy - Hellriot (ROAR! Rock Of Angels Records)
Roadwolf - Midnight Lightning (Napalm Records)
Shadows - Out for Blood (Sentient Ruin)
The Unslain - Descending (Rexius Records)
Vansidian - Reflecting The Shadows (Inverse Records)
Black Metal
Deimhal - The Grand Gathering (Self-released)
Gozu - Remedy (Metal Blade Records)
Henget - Beyond North Star (Season of Mist)
Heretoir - Wastelands [EP] (AOP Records)
Skade - Gudinnen (Sliptrick Records)
The End of Six Thousand Years - The End of Six Thousand Years [EP] (Hypershape Records)
Wesele - Fine de Siecle (Underground Cvlt Records)
Death Metal / Death-Doom / Grindcore
Astrophyte - 2192 (MDD Records)
Chronicle - Where Chaos Thrives (Mighty Music)
Craving - Call of the Siren (Massacre Records)
Elitium - Wrong (Gruesome Records)
Inferion - Inequity (Horror Pain Gore Death Productions)
Legacy of Brutality - Travelers to Nowhere (Abstract Emotion)
Miscreance - Convergence [REISSUE] (Season of Mist)
Nexorum - Tongue of Thorns (Non Serviam Records)
Temblad - Hallucignosis (Self-released)
Thulcandra - Hail The Abyss (Napalm Records)
Vomitheist - NekroFvneral (Transcending Obscurity Records)
Doom / Stoner Rock / Sludge / Psych
Age of the Wolf - A Pilgrimage to Nowhere (Sleeping Church Records)
Gavial - VOR (Exile on Mainstream Records)
Master Charger - Social Witch [SINGLE] (Self-released)
Moor - Heavy Heart (Blood Blast Distribution)
Tankzilla - Tankzilla (Heavy Psych Sounds)
Voul - Concrete Cult (Abstract Emotion)
Hardcore
Citizen Rage - Harsh Reality (Cursed Blessings)
Heathen Hearts - No Light Left To Chase (Self-released)
Lust - Invictvs (Cruzade Records)
Post-Rock / Post-Metal
A Horrible Death To A Horrible Man - Days Gone By (VS77 Records)
Omen Astra - The End of Everything (Hypaethral Records)
Vnder A Crvmbling Moon - I:Oblivion (Church Road Records)
SHRVL - Limbus (Pelagic Records)
Power Metal
Rebellion - - X - Live in Iberia (Massacre Records)
Sacred Outcry - Towers of Gold (No Remorse Records)
Progressive Rock / Metal
Drott - Troll (By Norse Music)
Tardigrade Inferno - Arrival of a Train [EP] (Self-released)
The Ocean - Holocene (Pelagic Records)
Umbilichaos - Mourning Carnivals From Now On (Time To Kill Records)
And the rest...
Surya - Hand of God [SINGLE] (Self-released) [Metalcore]
Yakuza - Sutra (Svart Records) [Experimental/Post-Metal]