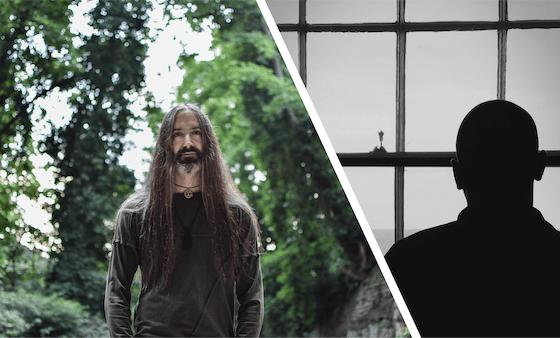 Album Review: Arx Atrata / Bleakwinter Shrine - The Warrior Cycle
Reviewed by Paul Hutchings
A tale of loss and revenge brought to you without words. This release is a fascinating concept, which sees two multi-instrumentalists bring you different yet equally compelling movements in a three-way split release. Four tracks spliced together by three interludes, in total 39 minutes of atmospheric black metal that washes over the listener in a majestic and imperious wave.
Opening with Bleakwinter Shrine's harrowing 'Desolation', one can feel the pain that is emitted from the shimmering wall of riffing. A picture may be worth a thousand words so the saying goes, and the same meaning surely applies to emotive passages of music. 'Desolation' ebbs and flows, it soars and dives, tugging at the blackened heart, filling it with hate and bile. Bleakwinter Shrine, the vehicle for Barry Chadwick or B.C, blends explosive passages with atmospheric, synth drenched sections. The interludes are brought to you by Arx Silvestris, the ambient incarnation of Arx Atrata's Ben Sizer. The three pieces here link the main passages of music. Bleakwinter Shrine's 'Surmounting' follows and is immediately noticeable for the change in tempo from the first track. Tumbling percussive rhythms tap, gentle acoustic strings feel their way through the darkness as the drumming becomes more intense and feverish. As the track slowly unfolds, the music begins to envelope and draw you deeper. For a solo project it's sublime.
Arx Silvestris return to link Bleakwinter Shrine with Arx Atrata's first visit, and it's a worthy piece. 'Retribution' allows ample melody with the glistening guitar work combining with deep echoing synths in a flowing track that captivates. The final interlude 'Justice' leads to the closing song, 'Succession', which is another beautifully crafted and emotionally saturated piece of music.
This record is unique. It's concept aurally stimulating. The absence of lyrics and vocals don't distract from the epic flavour and feel. At times, it soars almost out of orbit. In a world that sometimes suffocates with its own creativity, this record stands apart like the breath of fresh air it truly is.