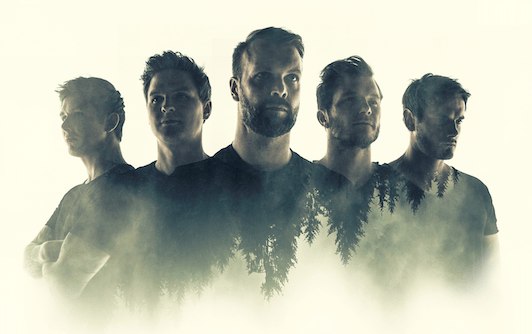 Album Review: Leprous - Pitfalls
Reviewed by Robbie Maguire
There was a time a couple of years ago where Leprous were often being heralded as the next big thing in progressive metal and more fittingly, progressive rock. They certainly had a unique sound which they'd developed that saw them sit comfortably within the technical and emotional walls of the genre. However, they were never afraid to venture over these walls and indulge in something a little different and in doing so create music that was inspired by a whole host of styles.
With 'Pitfalls', Leprous have not entirely knocked down these walls but we do find them occupying a place that stylistically has so much going on its hard to pin down exactly where that place is. It's a bold step they have taken with this their sixth album and their continuing innovative direction may please, surprise and possibility alienate in equal measure.
It was clear after the first listen that 'Pitfalls' was going to require some proper respectful and timely attention to fully appreciate, understand and ultimately (hopefully) enjoy all that was going on. As ever the striking vocals of Einer Solberg with their warmth and richness are the most apparent factor on the album. They are so out front and centre it's a good thing that his voice is so strong and able in effect to be the main 'instrument' on the album.
Listen to opener 'Below', you not only hear the range of vocals but the range in musical styles that defines 'Pitfalls'. Strings, guitars, be they producing chugging riffs or bright simple notes interplay and through pop, almost trip-hop parts and epic sections combine to deliver the characteristic euphoric high that Leprous are so good at producing. In contrast 'I Lose Hope' with its bass driven, pop simplicity or the sinister alternative rock of 'Observe The Train' display the diversity and variety here.
One listen may be enough for many people but as with the best albums, there is so much more on offer if time is invested. 'Alleviate' is a strong contender for highlight of the album. Certainly, highlight where the vocals are concerned. It is ridiculously catchy and the melodies both vocally and musically pull you in. You know there is a crescendo coming and then it hits you. It's a beautiful moment and it's clear that whatever direction Leprous take, they still have the ability to write superbly crafted songs.
The lyrics appear to be deeply personal and at times delivered with a sense of melancholy and then a strange mix of anger and hopefulness as in 'At the Bottom'. Again, a catchy pop song with chugging chords, strings and an ambient undercurrent. With so much going on the importance of space and timing is even more vital. The whole collection of songs don't feel like too much is going on or that the songs are over complex.  As with many of the songs on the album, you find yourself replaying parts over and over in your head. There is an infectious quality throughout.
Leprous don't totally ditch all their metallic leanings and the final one-two of 'Foreigner' and 'Sky is Red' will undoubtedly please those after a dose of razor sharp riffs. The slow burning closer, 'Sky is Red' with its angular chords and experimental sounds, choir voices and looping strings builds to a fitting climax to 'Pitfalls'
'Pitfalls' is an expertly created and executed album. It may prove too "different" even for those fans who fully sign up to the "progressive" tag with the curveballs, stylistic changes and general atmosphere of the album. It does feel a more experimental album and with the ability to listen and absorb with an open mind then there is much on offer. Certainly a less crunchy and rocky record but one which has the ability to shift from Pop to rock effortlessly.
If you are looking for a progressive metal record then I'd say look elsewhere. If however you are after a well crafted, soulful and enriching album which encompasses many styles then 'Pitfalls' is that.
Leprous new album 'Pitfalls' is available now on all good streaming services.