Album Review: Molly Karloff - Supernaturalation
Reviewed by Paul Hutchings
If you fancy lifting the gloom and doom at present, then maybe five tracks of no-nonsense heads down rock and roll will do the trick. If that is the prescription, it should probably have Molly Karloff written on it because the Oxfordshire based trio's latest EP smashes it on every level. By all accounts the reaction to 2018's 'Dancing for Money' EP was universally positive with the band creating a buzz across the UK with high energy shows. This EP will do them no harm in maintaining that momentum.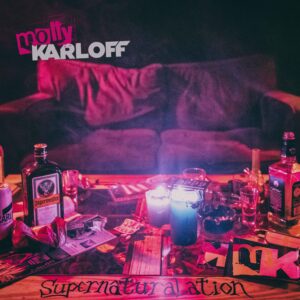 'Supernaturalation' is a mere 19 minutes of fist pumping hard rock. Filled with heavy riffs, thumping bass and anthemic vocals, the fiery tracks blend neatly, segueing into each other with an ease and style that is reminiscent of another powerful UK three-piece, Raveneye. The title track kicks things off, a rocking hook filled tune that would demand attention if these guys were playing in your vicinity. Plenty of soul and feeling on 'She Said' which follows, with vocalist Simon Gee showing some neat touches on lead guitar, using those pedals to maximum effect.
'Do You Wanna?' maintains the vibe, the shortest track here but nothing weak about it, powerfully propelled by the solid rhythm of bassist Dan Podberry and drummer Jowie Adkins, a slowing mid-section giving way to a frantic ending which maintains the intensity on the EP. There's no let up with the hooks on 'Do It Again', with a touch of filthy sleaze adding to the gritty feel. This leads to the closing track, 'The Other Side', the final infectious song which has you tapping the foot, nodding the head and feeling the need for a beer in a dark dingy rock bar.
By all accounts a storming live band, 'Supernaturalation' is a fine EP and one to raise the spirits.