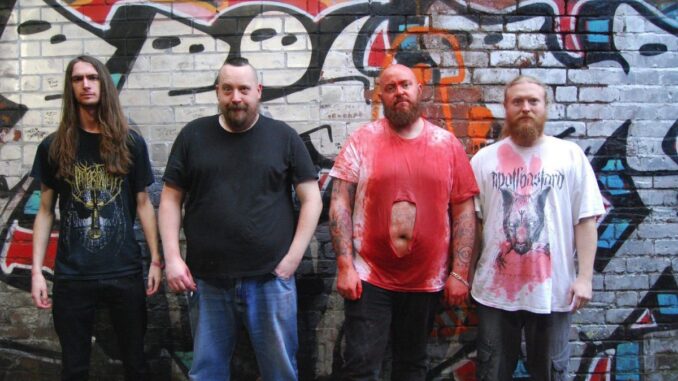 Album Review: Foetal Juice - Gluttony
Reviewed by CJ Claesson
Subjectively speaking, death metal hasn't slowed down during the course of its grotesque and blood drenched existence. Au contraire, the amount of good, new death metal pouring out from the severed limbs of the extreme music industry can be paralysing. How do you find the right faces in the basket full of guillotined heads? I have no idea, but a good start is Foetal Juice and 'Gluttony'.
I was introduced to Foetal Juice in 2017 when they were added to the already jam-packed bill of the annual Berlin Deathfest. I was late to the party. Sue me. The name caught my eye and I most certainly judged the book by its cover – and I'm happy I did. They were the second band on the bill that day, which made me proclaim: "Dude, we have to be at the venue early, I'm not missing Foetal Juice!". Which out of context sounds rather bizarre...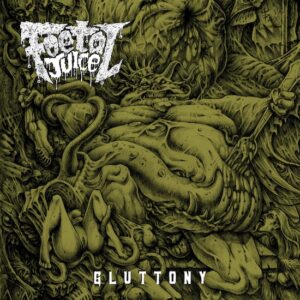 Fast forward to 2020, having listened to 'Masters of Absurdity' an absurd amount of times and I'm about to hit play on the new full-length album 'Gluttony'. Tasty. The band states that the new album is the "most aggressive explosion of bile drenched death metal that the band have ever discharged" and these self-proclaimed masters of absurdity sledgehammers it on the nose with an immense force. Ding dong! Immediately on the first track 'Take Your Face For A Shit' I'm welcomed by a stench of riffage with a hint of thrashy D-beat hardcore which makes me inhale with joy. And it doesn't take long before Derek (Carley) proves himself to be the king of the jungle. Unleashing his bestial George "Corpsegrinder" Fisher-esque roars over blistering blast beats. I want more. What I expect is more of relentless death metal riffage, with razor sharp guitar tone which would make any gear head jealous, and excessive kit abuse. Is it there? Yes, a buttload of it. But the same flirtations with D-beat can be found in 'Manifestation of Falsity' and it blends beautifully, releasing secondary death metal notes in a bouquet that will stick with you. It's noticeable Foetal Juice took their song writing to a new level on this record. However, they didn't simply unleash heavy artillery without finesse and thoughtful structure, which is made apparent on tracks like 'Venomous Domination'. More so than ever before they let each instrument breathe and you can enjoy every skull crushing snare hit, the fretboard frenzy and immaculate bass groove.
Foetal Juice keeps shovelling coal into the already rampant locomotive with songs like 'Worthless Delusion'. This 3:37 minute heavy weight delivers a severe punch and tempo changing delicacy which would make Chuck Schuldiner himself proud. It's a head-bang explosion served in a blackened death metal shell. A feast for the ears, and the neck. You'd think that the energy would wear off throughout the album, but the sheer power produced by these Manchester natives is persistent. Title track 'Gluttony' with corresponding music video released earlier this year, solidifies the bands M.O. which is to hold up the metaphorical mirror in which mankind can gaze into our destructive, greedy faces whilst swallowing the last remnants of the Earth. This further manifests in the album closer 'Spirit Leech' and even though you just listened to 12 songs of relentless riffs intertwined with black humour, I assure you, you'll want to hit that replay button straight after the first listen.
When the band says that they are at the top of their game and the album is death metal from the top tier, more capable of taking on the biggest names in the genre – and winning, it not just shallow brag. It's completely true.
If death metal was a grotesque bar of the limbless undead – I'd buy everyone a round of Foetal Juice.
Cheers!
'Gluttony' is released via Gore House Productions June 12th.