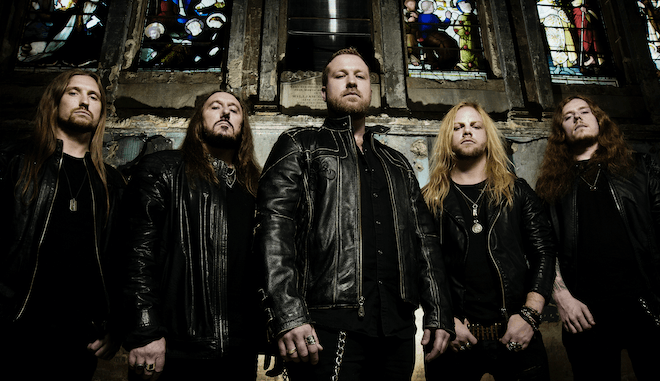 Album Review: Forged In Black - Ten Years At The Forge
Reviewed by Jon Wigg
Southend traditional metallers Forged In Black have been around the scene for 10 years now, and to celebrate this anniversary, present 'Ten Years At The Forge'. This is a compilation made up of the title tracks of their two full lengths and three EPs plus a single and is an excellent six track introduction to this band which had passed me by. And a fine collection it is too. Forged In Black play a traditional modern style of metal with classic and harsh vocals mixed to good effect. Riffs-a-plenty fill all their songs, remixed here by guitarist Chris Bone and all have a massive sound which complements them well.
Opener 'Forged In Black' is their live anthem and set closer and it gallops along well, with a definite nod to the classic UK metal style of Iron Maiden and Judas Priest. Lead vocalist Chris Storozynski has a fine set of lungs and a good range which is on display here and the twin leads of Bone and Andy Songhurst make the solos and rhythms sections a pleasure. The harsher sections, which show off the more modern metal abilities of the band, fit in nicely and the rhythm section of Kev Rochester on drums and Kieron Rochester on bass (and additional vocals) really drive the pace well.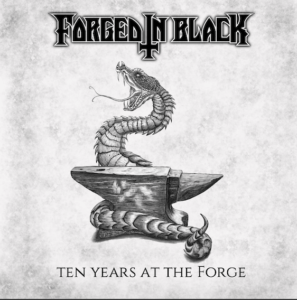 'The Tide' starts with an atmospheric bass opening before a good heavy mid-paced stomper kicks in. 'The Exodus' is another standout here, with more doom elements in the slower first half, before the tempo picks up in the modern second half which also includes some excellent dual soloing. 'Fear Reflecting Fear' starts with an orchestral beginning before soaring into some powerful metal of varying tempos and again great solos. 'Sinner Sanctorum' lacks the massive sound of the previous tracks but makes up for this with some excellent song writing and construction. A real groove element is introduced mid-way through and finishes with some thrash elements and riffs. Final track 'Descent of the Serpent' sounds amazing and ups the thrash elements and for me is the highlight of the collection, although I enjoyed all of the tracks here.
This collection displays the skills of the band both as performers and writers, and also the evolution over the 10 years, as the tracks are presented in chronological order. You can hear the band's style evolving from the raw 'Forged in Black' to the more thrash-oriented and even proggy elements in 'Descent of the Serpent'.
As I said before, this is a fine introduction to Forged in Black and I for one will be checking out their full catalogue.