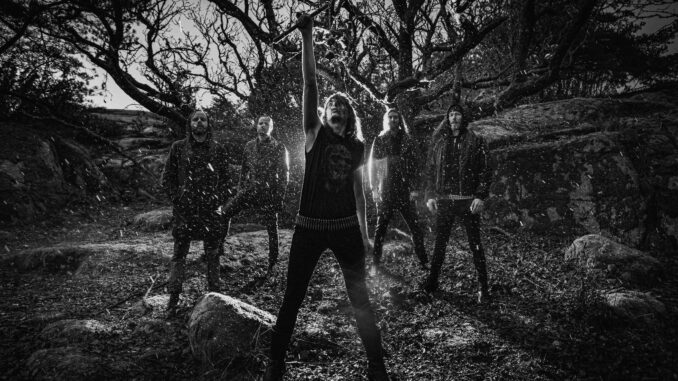 Album Review: Vampire - Rex
Reviewed by Paul Hutchings
If you can put aside the rather ludicrous names of Vampire, frontman Hand of Doom, guitarists Black String and Sepulchral Condor, bassist Command, and drummer Abysmal Condor, then the third full length third studio album, 'Rex' proves to be an impressive and vibrant piece of work. Whilst the band are badged as death metal, that is a category that doesn't fit with any cohesion. There are certainly elements of death metal present, particularly in Hand of Doom's vocals, but there are strains of earlier heavy metal (Maiden, Metallica), black metal and thrash all in the mix.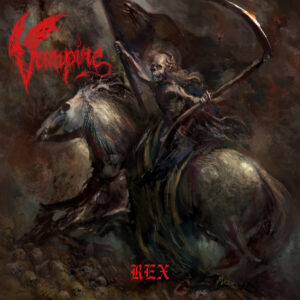 It's been six years since 'With Primeval Force' was released and whilst it's been a long wait, 'Rex' sees the Gothenburg outfit roaring back in fine style. Laced with catchy anthems, the album opens with 'Prelusion', a short guitar only intro before a ferocious riff kicks the title track off, a snarling mix of blackened thrash at breakneck speed. It's a powerful opening which sees duel guitar work seeking melody amidst the mania that surrounds. The Maiden-esque duel melodies are prominent throughout, particularly on tracks such as 'Inspiritus', one of the most accessible songs here. It's evident that the band's Mercyful Fate and Slayer influences remain vital to the band's approach but the baser instincts of Dissection and Possessed provide the drive and engine.
The lyrical themes in the album explore the vanity of human endeavour with the title track portraying the crucial fatal blow to the Swedish Empire from an unexpected and rarely considered perspective, and in a much different way to their countrymen Sabaton. As the band shed light on familiar historical and traditional situations, it's evident that there is plenty of thought and reflection beneath the razor sharp riffs, rolling drum fills and symphonic elements on tracks such as 'Moloch', which echoes those black metal bands who poured forth in the early 1990s from Scandinavia. 'Moloch' is one of several kaleidoscopic songs which rarely slows in pace, but which contains multiple time changes, inputs of pace and complex patterns.
With a borrowed word or two from the ghosts of poets Emily Dickinson and Robert Graves permeating through two songs, Vampire have stirred a potent cauldron of blisteringly intensity. They may sit somewhere outside of the traditional labelled genres but there is enough within 'Rex' to appeal to fans of metal in general and those whose focus maybe slightly narrower.
'Rex' is released on June 19th via Century Media Records