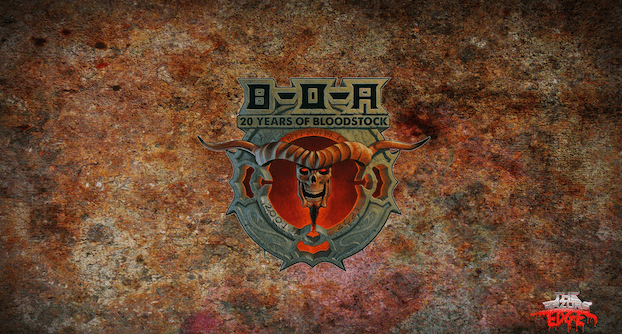 Bloodstock 2020 Interview: Orange Goblin.
Interviewed by Tim Finch

2020 was supposed to be a special year for two reasons... firstly 20 years of Bloodstock Festival, the biggest heavy metal festival in the UK, and secondly Orange Goblin are celebrating 25 years together as a band. To bring it all together, Sunday at this years festival would have seen us celebrate both anniversaries with a very special set on the Ronnie Jame Dio stage.
Whilst we will have to wait until next year to see Orange Goblin grace the main stage, we caught up with frontman Ben Ward to get his views on the festival over the years, the bands performances at the festival and of course what 25 years in Orange Goblin has been like!
You can read the full interview is below, but if you'd rather listen then you can check it out on the following services:
The Razor's Edge: So, 2020 should have been huge for you guys, your 25th anniversary together. How much of a blow to your plans has the year dealt you?
Ben: It's been a massive blow, not just for us but for every band and the music industry in general. Obviously it was going to be a special year for us with our 25th anniversary year looming. We've had to adapt and to do that we put together a digital live album which we released via bandcamp. That was a nice little stop gap really to make up for the lost shows, a lot of festivals have gone out of the window. As sad as that is there is nothing that can be done about it so we've just got to pick ourselves up and get on with things.
Sadly I think it's going to be really tough for a lot of bands to survive. There's overheads involved with bands who do this on a semi professional level. With ourselves we are in a position where we can maintain what we do, that live album has helped bring in the revenue to cover our studio rental costs, equipment storage and everything else that goes with it. It's not been ideal, but everything we had planned for 2020 we are reconfirming for 2021 so it's going to be a 26 year anniversary. [laughs]
The Razor's Edge: You were due to play the main stage at Bloodstock this year, their 20th anniversary on the same year as your 25th. Did you have anything special planned for that show?
Ben: Obviously we were going to pay a lot of attention into the set list. We try to put a bit more into production these days than we have in the past. It used to be just the four of us wandering on stage and going for it, but now we realise the paying public want something a bit extra so we've put more thought into the light show and that sort of thing.
The set for Bloodstock was going to be a special one for us, with it being an anniversary we were going to play material from across our career with nine albums under our belts now it makes it a little bit difficult. That was one of the most hurtful cancellations of the summer for us, Bloodstock has a special place in our hearts having played the very first one twenty years ago and then we headlined the Sophie Lancaster stage in 2012 and recorded our live album and DVD there. 2015 we went back and played the main stage for the first time, so this year was going to be very special, two anniversaries to celebrate. But also being on there alongside bands that inspired us and were a big influence like Diamond Head, Saxon and Judas Priest it was like a homecoming for British metal. Hopefully we can do it all again next year. Bloodstock is one of those festivals that will survive, it's got a lot of support, its really well organised, family run enterprise. I think they are going about things really well, next year they've added the extra day so we look forward to getting together in a field with all our friends from over the years and do it all again.
The Razor's Edge: You mentioned playing the very first Bloodstock. So you and the festival have pretty much grown in the industry together! Do you have any memories of that first edition of the festival?
Ben: All that sticks in the mind is the fact that we got banned from Bloodstock after it. I'm not sure it was particularly us but a few people we know played up in the dressing room afterwards and caused a bit of a mess, not saying any names. Some of the other bands on the bill were partying with us and it got a bit out of hand. There was a little bit of, not fall out, but animosity towards us from Bloodstock in the early days, it wasn't necessarily our fault, but it was understandable. It all got resolved over  the course of time and when they had us back in 2012 it was to headline the Sophie stage so everything's alright now.
I mean it was different back then, the first one was indoors at the Assembly Rooms in Derby so it wasn't the same location at Catton Hall. I remember it being a great day, Saxon, Glenn Hughes, I don't remember the full line up but it was a really great experience from the bits I do remember.
The Razor's Edge: So looking back at the beginnings of the band, when you formed as Our Haunted Kingdom back in 1995 did you ever envisage your career lasting this long?
Ben: No not at all. When we started the band back then it was just a way of relieving the boredom, there was four of us sitting around, out of work, sharing a mutual love of the same music. We were all into Sabbath, Motorhead, Iron Maiden, Judas Priest. Joe and Pete could both play the guitar but me and Martin had never been involved in bands before. Martin chose to play the bass, bought himself one and taught himself from scratch basically. It kind of snowballed as soon as we got to a position where we had written a few songs, played a few shows locally even like just jam nights at the local blues club were we could play three songs. It's kind of bizarre because went up there and did a Jimi Hendrix cover and a death metal song we'd written for the first demo, the faces on the people in the pub that night were amazing!
We didn't expect it to last as long as it had. We thought it would be great to record a demo and maybe do a few local shows. We were fortunate after the initial 'Our Haunted Kingdom' period we found our niche with what was then considered the stoner rock world. That was a burgeoning scene around '95, especially in this country as we were getting the likes of Kyuss, Fu Manchu and Monster Magnet and all those from America and it really tied in with the Sabbath thing that was happening here with bands like Cathedral, Electric Wizard and Acrimony. We got in with the right crowd really and did a few shows in London with bands like Morne and then Lee Dorrian from Cathedral who obviously ran Rise Above Records came to check us out at a show we did with Electric Wizard. He was really blown away with what we did last night and offered us a deal on the spot. So having his backing and support was a real big step up for us and the next foothold on the ladder which led us to having a career. We are forever grateful to Lee for what he did, not only putting our records out but also Cathedral taking us out on tour in those early days.
Thats where it all started, it gave us a foot in the door and we grasped the opportunity and never looked back. Here we are twenty five years later with nine studio albums under out belt and we still enjoy what we do. We realise how lucky we are and what a privileged position it is to be in a band and get paid to go all over the world, get free beer, hang out with your mates and watch bands at festival that you've loved for years. It's a nice position to be in.
The Razor's Edge: Back in the late 90's for me, as a young impressionable teen at the time, you were bringing something new to the table. Did you ever see yourselves as heading up a (second) new wave of British heavy metal?
Ben: Not really, I don't think you do. When you are inside that bubble you don't give yourself the credit that you deserve at the time. To us we were just doing what we enjoyed. Those early days in the mid to late 90's we got a lot of stick and where accused of being a Black Sabbath rip off a Cathedral rip off that sort of thing. We never wanted to be pigeon holed as a stone rock band and we tried to incorporate as many of our own personal influences into our sound as possible. By doing that and adding a little bit of punk rock, a bit of doom metal, a little bit of southern rock, a little bit of this and a little bit of that it created something quite unique to Orange Goblin.
We got shit reviews in the early days, the likes of Kerrang! slated us and thought it was all a bit of a joke, especially with a name like Orange Goblin. The fact that we persevered and stuck with it and consistently made decent albums, I think the UK press sat up and thought these guys ain't bad, it's not the joke we thought it was. The longevity of the band build our status as a respectable act. Looking at it now we are considered, as you say, another new wave of British Heavy Metal and we are worthy of slots on main stages at Bloodstock along side the likes of Saxon and Judas Priest.
The Razor's Edge: I think the first time I got to see you play live was 1998, a January show at JB's (Dudley) and then again later in the year supporting Queens of The Stone Age in Wolverhampton. What were those early tours like for you as a band?
Ben: They were carnage, absolute carnage! We were young and impressionable and we though the idea of going on tour was to have as much fun, cause as much mischief as we could. There wasn't an ounce of professionalism within the band at all, we would just drink as much bad stuff as we possibly could. Looking back on it we probably made a few mistakes and upset the wrong people in those early days. But you learn from those mistakes and you start to mature a bit and realise when people are paying money to come and see the band you need a degree of professionalism.
The Queens of the Stone Age tour in particular, we didn't really give it any thought at the time we were just doing it because we were huge fans of Kyuss and this was the new band of Josh, Nick Oliveri and Alfredo so just to be on that tour and playing alongside them every night was a massive honour. No one knew who they were at the time, no one what they would go on to achieve so it was tiny little venues, I think the Varsity in Wolverhampton and places like that, which was crazy now when you think what Queens of the Stone Age have gone onto. The tours were a great learning curve for us as a young band and held us in good stead. We forged life long friendships with those people and gave us an insight on how to be more professional on the road and what you need to do if you want to survive. I mean if we carried on the way we were going in those early days we'd all be dead by now let alone playing in the band after 25 years.
The Razor's Edge: A couple of years later you hit the road with Unida featuring John Garcia, so you were slowly racking up Kyuss members on your tours.
Ben: It's funny cos Scott Reeder was playing bass for them at the time as well. Thats how we formed our relationship with Scott and John. Scott produced our Coup De Grace album in 2002 and John came over to vocals on that as well. We did a lot of great tours, there were a lot of shows with Fu Manchu, shows with Danzig, Monster Magnet. We did arena tours with Dio and Alice Coopers, it was an exciting and eye opening time. Those sort of things helped forge who we are as a band and helped us forge relationships with road crew, merchandise people and lighting directors and all those people we still work with today.
The Razor's Edge: And how did the exposure of a tour with bands like QOTSA, Unida and the Dio and Alice Copper arena tours help you guys?
Ben: That's what it's all about, thats the reason we did those tours to get that exposure. A band like us who are used to playing 250/300 capacity venues in Camden to all of a sudden being out there on the road with world renowned bands and artists playing to 12,000 people a night it can't do you any harm at all. We always looked at it that we appreciate the venue won't be full when we hit the stage, if we can play to 10% of each venue each night and win over 10% of those people it's all that building process. When you are seen on those stages it makes everyone in the industry sit up and take notice and it really worked for us doing those tours so early on.
The Razor's Edge: Getting 'Blue Snow' onto the 1998 Kerrang! Cover cd (Radio Kerrang! Vol7) must have also been a big boost at the time, sat alongside Sepultura, Rob Zombie, System of a Down, Korn and Monster Magnet!
Ben: That must have been around the time of 'The Big Black' album which is when things did start to take on a more professional aspect. The UK press did start to embrace us, hence Kerrang! putting us on their compilations and we also did them for Metal Hammer, Terrorizer and all the UK rock press. That can't do your band anything but good. It was beyond our wildest dreams that we'd be on compilations alongside the likes of Sepultura who we worshiped as kids. All those sort of things are incredible when you look back at it.
The Razor's Edge: You'll have been asked this 1000 times before, so I apologise for asking again. When Pete left in 2004 what was the decision making process like for the rest of you as to whether you replaced him or not?
Ben: Well, there wasn't a decision to make really. Pete had sort of had enough of doing the band after we completed our first North American tour in 2002. We spent 38 days in a tiny little van and done 37 shows right across North America with Alabama Thunderpussy supporting us. The was gruelling, seriously gruelling, there were no hotels we were sleeping in the van, arrive at the venue, get in and do the show, load the van up and it's a ten to fifteen hour drive to the next show. That took it's toll on all of us, but Pete especially as he wasn't determined to make the band a career, he was an artist, a very good artist, and wanted to concentrate on his creative side in that field.
I think the last show he was supposed to play with us was the Bulldog Bash but for some reason that morning he could't make it and he phoned up and let us know. It kind of left us in the lurch we didn't have time to find a replacement so we did that show as a four piece and when we came off stage people said "that was incredible you don't really need to find another guitarist". SO that was it, our mind made up for us. The two main influences on us throughout our career have been Black Sabbath and Motorhead, the classic era's of both have only needed one guitarist. You had Tony Iommi and Fast Eddie Clarke and that was it decision made really.
The Razor's Edge: As your career has progressed, 25 years is a long, time, a lot of music and a lot of tours, what has been you highlights… and low lights?
Ben: Well Pete leaving was probably the lowest as it did throw a lot of uncertainty around things. But not for long, once we did that show and everyone said the four piece sounded good it alleviated any fears we had there.
The high points have been so many, where do you start with a twenty five year career? Seeing your first album in the shops or being in the recording studio like a kid in a sweet shop. It's a great feeling knowing you have the backing of a guy like Lee Dorian, so signing that contract, recording the first album then going on tour for the first time.
Then going to Japan was like a dream come true, we got treated like the Beatles, it was an incredible experience. And then it's just as things progress things get better and better. There was that first North American tour, then doing European tours supporting Cathedral, being on a night liner for the first time and feeling like a rock star. Then you go and do the Soundwave Festival in Australia playing in huge stadiums alongside the likes of Metallica, Slayer and Machine Head. All these household names and hanging out with them back stage was a great feeling.
Personally for me some of my favourite highlights was playing Hellfest five times, Wacken Open Air, Sweden Rocks, playing the main stage at Download Festival, playing the main stage at Bloodstock, headlining the Sophie stage a
t Bloodstock. A couple of years ago we got invited by Sharon Osbourne to open the main stage at Ozzfest in California. That was quite an honour as we were the only British band on the bill that day. There's been a lot of amazing peaks in this band, we don't take it for granted, we are not arrogant about it, we don't brag about these things, we're just grateful that they've happened to us. We know we've worked hard and persevered so they are all well deserved.
The Razor's Edge: You've all got day jobs, how hard is it to fit being in one of the biggest heavy bands in the UK alongside everyday life?
Ben: It can be really difficult, the amount of tours we've had to turn down in the past due to having day jobs that wouldn't allow us the time off is unbelievable. The only time we did give up the day job was after 'Eulogy of the Damned' came out in 2012 and then we had a go at doing it professionally across 2013 and 2014. We spent 8 months of the year away from home did 161 shows in 2013 and went all over the world. It was hard work but it was fun. Unfortunately the style of music isn't commercially accessible, we are not going to be the next Iron Maiden or Metallica and unfortunately it didn't quite pay the bills for us. So we had to swallow that pill and say let's go back to work and keep doing it as a hobby. We are not jaded by it, we had a go and I think we'd have regretted it more if we hadn't taken that step and given it a chance. It's better to have tried and failed than to not have tried at all. That's it, we're still here, we still enjoy it.
The Razor's Edge: You work in the industry, you've seen a lot of young bands come and go. Is there anyone on the scene now that you see as the rightful heir to the Orange Goblin thrown?
Ben: I don't know... there's a lot of great bands in the UK at the moment. Bands like King Creature, Video Nasties, Green Lung, Boss Keloid, theres a lot of interesting stuff going on in the UK right now, it's a very burgeoning scene. That's always been the case in this country, you go back the 60's and the amount of quality bands have come from this small islands it's an incredible output. It's a shame now when we are in these times where coronavirus has decimated the music industry and the government don't put any support into the arts and music scene in this country. When you consider this is the same place that gave the world the likes of The Beatles, The Rolling Stones, The Who, Pink Floyd, Led Zeppelin, Black Sabbath... it's an endless stream of quality music over the years and we don't get any support here. But at the same time I think thats why this country is so prolific with good music that it's still quite frowned upon and there is that frustration and all good art is born of frustration and suffering. That's essential to everything, not just music, whether you are a painter, sculptor or a writer you have to experience the lows to put that on your canvas and this country has always done that. With the animosity towards the current government I think this country is going to have a great music scene for a long time to come!
The Razor's Edge: For a number of years I've been saying Desert Storm are slowly building themselves up to be the "next Orange Goblin". They've toured with you before, what do you think of them?
Ben: I'm sorry, I apologise to Ryan and Elliot, I should have given them a mention there. They are the cream of the crop of new bands coming out of the UK as well. It's been amazing to see their career progress. When we first came across them we thought they were nothing but a Clutch clone, they've grown and developed as a band and they've added so many textures to their song writing. The new album of theirs, Omens, is a real indication of that which is really strong start to finish. Their lovely guys start to finish, so if any success is due to them it's really well deserved.
Whenever there is a sort of Black Sabbath influence there is always going to be comparisons to other bands. I can see why Desert Storm have been compared to ourselves, but they have forged their own path now which is great,
The Razor's Edge: So as we wind the interview down, 2020 has pretty much been decimated. Hopefully you'll tour in December, but what does 2021 hold for the Orange Goblin machine?
Ben: As I say, we've had to reschedule most of the festival bookings we had planned. There is still a chance we'll have to reschedule the December tour, but we are keeping our fingers crossed that we are back to some sort of normality by then but who knows. It's just filling up the calendar, there is talk of us writing new material, I don't think we are done with writing and recording. It would be a shame if 'The Wolf Bites Back' turned out to be the last album as we've got a lot left to give. Chris and Joe are writing ideas, I've got lyrical content that can be used, there is definitely a possible new album in 2021 for sure.