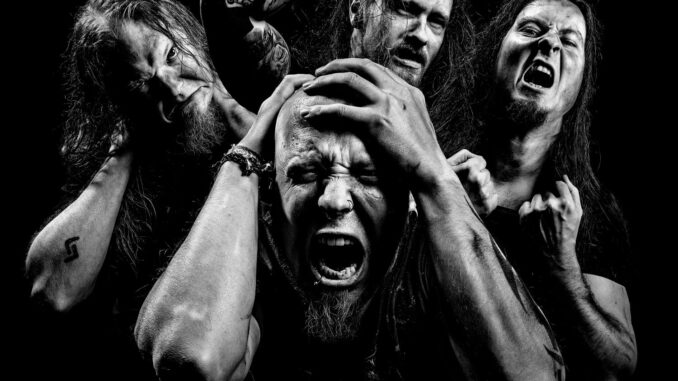 Album Review: Curimus - Garden of Eden
Reviewed by Paul Hutchings
If you've ever visited The Museo del Prado in Madrid, chances are you've spent time admiring the work of Hieronymus Bosch and his amazing triptych, 'The Garden of Earthly Delights'. The left panel is an interpretation of the Garden of Eden with God presenting Eve to Adam, the central panel the main garden scene whilst the right is a captivating and horrifically bizarre interpretation of Hell. Whilst Finland's Curimus have called their third album 'Garden of Eden', the sheer brutality contained within its 30 minutes is much more in line with Bosch's pictorial images in the third panel.
Thematically. 'Garden of Eden' revolves around human selfishness and injustice in all its forms. Curimus compare the current world situation with the Garden of Eden, a place where no-one is happy. I'm not familiar with their previous work but on this showing, I'll be looking up their previous two records, Realization and Artificial Revolution. Opening with a typical intro, 'Eden Unveiled', the tension and atmosphere builds with a chugging riff which increases in intensity before the whole band kick in. This leads to the punishing Ignite, a fiery death/thrasher which is dominated by the visceral growls of Marko Silvennoinen. His vocals match the punishing riffage that cascades through the album like a February flood. '72' features a classic cameo by Hell's David Bowers, who adds some typically thespian narrative which sits neatly within the raging inferno.
Elsewhere, Curimus straddle thrash and death with ease, plenty of driving riffing and battering drums, and whilst the lead breaks are limited, guitarist Tommi Ahlroth is savage with his razor sharp delivery. There's plenty of groove to underpin each of the songs, with the chug on song such as 'Victims' and 'God Eater' a pleasing addition. Thrusting and aggressive, the songs are brutally short, sharp shocks, with the ferocious driving 'Catalyst' tying with Ignite for longest track at a mere 3:49. This allows Curimus to deliver a blistering assault in record time. Forays across the metalcore line for songs such as the visceral 'Hate The Progress' don't detract in any way, the combined chanting adding a touch of variety. It's quick, frantic, and heavy and extremely enjoyable.
Garden of Eden will be released on 30th October.