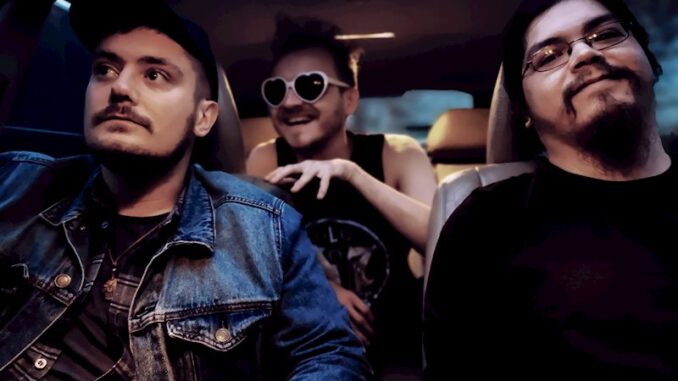 Album Review: Under - Training Resource #5
Reviewed by Tim Finch
When the new E.P. from Stockport power trio Under landed on my desk I wasn't sure what to make of it. The album sleeve for the interestingly titled 'Training Resource #5' was all strictly business. Living up to its title it looked like to cover of a business training manual, complete with five individuals gormlessly smiling, thumbs raised to the camera… but with their eyes horrifically removed. Album artwork is a vital part of any musical release, and with this Under have certainly delivered something that sounds out. It's different, it's unique, it'll get the listener talking!
So having got past the artwork, who are Under? Hailing from the industrial north, they were born into the local sludge, stoner, doom scene. But your standard doom or sludge band they are not. They mix elements of the aforementioned scene with prog, noise, a smattering of punk and some avant-garde experimentation.
Opening track 'Introductions & Apologies' in its title is in keeping with the overriding theme of the E.P. and shows the sense of humour the band exude. It also introduces you the world of Under, not gently, but throwing you in at the deep end. The short one minute thirty two second track spewing forth lashings of experimental, progressive noise overlayed intermittently with wonderful vocal samples.
'Dope Loop' follows, and is more of your traditional heavy, sludge laden beast. The heavy bass line of Matt Franklin throbbing relentlessly as the vocals of Simon Mayo (not the BBC Radio DJ – as far as I am aware) bear down on the listener. The slow, lumbering song, relentlessly pummelling you into submission. 'Dividers in Hell' ups the pace, and brings in the noise and punk sensibilities along with the avant-garde. Rounding out this E.P. nicely is 'My War' which drops the experimental avant-garde element and is out an out and out fast paced, heavy, punk inspired number. In your face, high intensity aggression!
If you are looking for something a bit different, a band trying to push the boundaries of music and not trying to pigeonhole themselves into one sound or genre. Then look not further than Under and run through their 'Training Recourse #5'. You won't regret it!