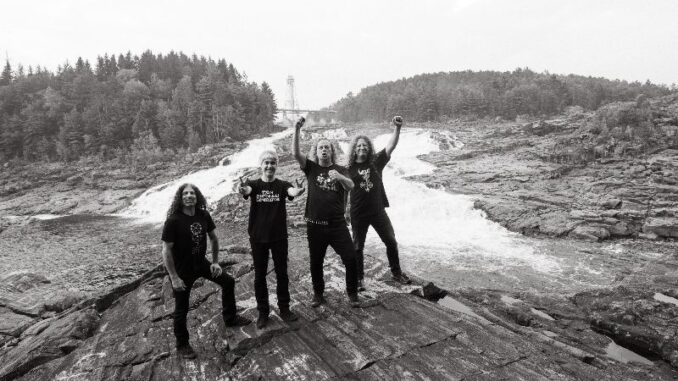 Album Review: Voivod - Lost Machine (Live)
Reviewed by Gareth Pugh
As far as 2020 goes for gigs, as we all know, it's been a complete washout; tours cancelled, festivals postponed, the whole works, and it doesn't look like there will be a solution, for quite a while yet. So, to try and feed that need for the live show, there's been a number of alternative options; live streaming of gigs by bands with no fans, or very few socially distanced audience members, and obviously the most obvious one, the good old fashioned live album. One band that has been on my list of must-see bands for many years is Canada's veteran thrash, prog, tech, rock, metal legends; Voivod. Long has this band been revered for their live performances, and so with the news of the release of 'Lost Machine (Live)' I was quite excited to hear this live album, the next best thing to a gig.
'Lost Machine' comprises 13 tracks spanning pretty much the whole career of the band, (for a more detailed history of the band, see my review of 'The End of Dormancy' E.P. earlier in the year). As with all live albums, you can never please everyone, there's always going to be a song that someone is desperate to hear, which was missed off, and I'm sure 'Lost Machine' is no different. One thing that did stick out when I looked at the set-list was that the album is pretty loaded with new material, four tracks taken from the latest studio album 'The Wake' and two from the 'Post Society' E.P. That covers almost half of this love album. I was surprised to see that there wasn't a track from 'Target Earth', which was a very important release, and almost a "return" album for the band, but there you go, like I said, you can't please everyone! For the other seven tracks, the band has also completely ignored, and understandably so, the era when Snake was out of the band, along with all the noughties albums. They have concentrated on the more classic period, with 'War and Pain', 'Killing Technology', 'Dimension Hatröss' and 'Nothingface' all being represented. The final two songs are from the more 'progressive rock' era of the band 'Angel Rat' and 'The Outer Limits'.
Sonically and performance wise this is a joy to listen to, as you'd expect, the instruments are all crystal clear and have that cool live vibe to them. The band are also on top form, and although there's few mistakes, what errors have been made, seem to have been left in, so it's a bit of a warts and all release. The only thing that seems a bit quiet, is the actual crowd noise, they seem a bit subdued, especially during the tracks, but even in between tracks they seem to be at a low volume. A minor complaint. This is a great alternative to an actual gig, and my only complaint, as is my usual gripe with live albums, is my own greediness, and that there's not enough tracks. If you're a fan, then I think you're going to be pretty satisfied, and if you're not a fan, this is a great way to get yourself acquainted with a genre icon.