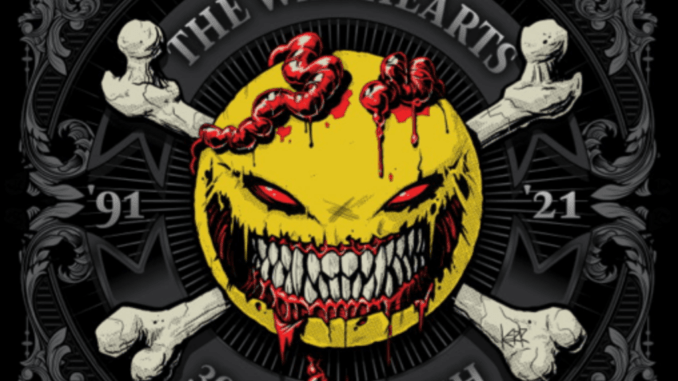 Album Review: The Wildhearts - 30 Year Itch
Reviewed by Carl Black
During the early to mid-nighties, the UK had a glut of hard rock bands that blended classic rock, metal, pop, hard bloody work and anything else really. Bands like Terrorvision, The Almighty and The Wildhearts to name a few. They didn't really fit in anywhere. Nobody wanted to take ownership, but through graft, blood, sweat, tears and sheer bloody determination found themselves in the middle of renaissance for UK Rock. If there was a tour support up for grabs 25-30 years ago, one of these trio of bands would have been added to the bill. If there was a support slot, these guys would fill it. They would roam around the country, looking for a stage to play on and an audience to entertain. Each time getting bigger and bigger and better and better. This is why they have survived. This is why people buy their records, this is why people turn out to see them. This is why people remember them.
The Wildhearts were always the punkiest, the dirtiest of the trio. More Motorhead than Iron Maiden. More Sex Pistols than the Stranglers. With a secret, song writing musical sponge that would suck up any influence, any sound, any harmony, give it the Ginger treatment and spit out some commercial, hard edged, fast rock that no one else can seem to match.
It's been thirty years since they first started playing live and what a perfect way to document that fact than with this live album. This recording touches on all aspects of their long career. New songs such as 'Dislocated' and 'Diagnosis' sit nicely alongside old classics such as 'Suckerpunch' and 'Everlone'. 'Vanilla Radio' is a highlight from the middle of their career. A greatest hits set that has something for everyone. And played beautifully. This was not always the case. Their early live shows where peppered with mis-fires and triumphs. The members looked like they would kill each other and then kiss each other moments after. You never knew which way it was going to go. They were like a battered car, running on bald tires about to slide off an icy road at any minute. Very hap hazard if you happened to be along for the ride. As this record testifies to, the danger is more that of a rollercoaster. You still get thrown about, but you know deep down, everything will be okay and you'll get what you came for.
I'm listening to this album with my seventy plus year old father in law. We saw The Wildhearts on many occasions. This is the man, who only yesterday (as I write this) got a name checked on national radio for attending a Boo Didley, Little Richard and Rolling Stones gig (all on the same bill) at the Southampton Gomont in the 60's. "Bloody good The Wildhearts, the most under rated band I've ever seen and bloody good live" and if it's good enough for my father in law, it's good enough for you or I!